The Makita BHX2500CA Commercial Grade 4-Stroke 24.5cc Handheld Blower is a petrol leaf blower for moving leaves and other debris off hard surfaces. The blower has an easy-start system and low vibration for easier handling.  The Makita has a 4-stroke OHV engine that features low fuel consumption with no fuel mixing necessary.
Amazon.com has the best prices on just about all leaf blowers including the BHX2500CA from Makita.
The engine also has reduced emissions for improved environmental impact and approximately 60 percent in fuel cost savings compared to other leaf blowers. In addition, the exhaust emissions are CARB Tier III and EPA Phase II.  When purchased, the blower comes with a vacuum bag, various attachments and an owner's manual, as well as a 3-year warranty.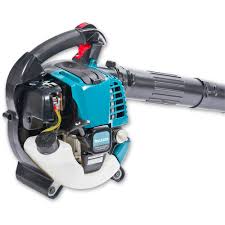 Features and Specifications
Engine displacement – 24.5cc
Fuel tank capacity – 520ml
Air volume – 10.1m3/min
Air speed – 64.6m/s
Noise (dB) – 66 (ANSI)
Overall length – 368mm
Net weight – 4.4kg / 13 lbs
Power output – 0.73kw
Reviews
One customer referred to the Makita as a "big cat" that starts, works and purrs easily. Most users gave the blower an overall review of 4 ½ out of five stars. Owners assert that the Makita leaf blower has more than enough power for most jobs and many tasks work at low throttle. In addition, since the blower is around 10 pounds total, almost all users will be able to hold and carry the leaf blower around.
Customers also seemed to like that the leaf blower does not require oil and fuel mixing prior to use, although the blower does require almost 3 fluid ounces of 10-30 crankcase oil. One user notes that the blower must warm up for a minute prior to starting and allow the choke to open gradually when using the blower. In addition, another owner warned that the oil must be filled slowly and carefully to prevent the oil from overflowing. During use, a few users stated that the back of the tool brushes against their legs. One reviewer said that the gas cap unscrewed after brushing against his leg repeatedly. You may need to hold the tool away from your leg slightly during use.
If you're thinking about upgrading to a Makita leaf blower, be sure to check out my review of the best cordless lawnmowers.  You'll be surprised which one took the #1 spot.
In addition, one homeowner reported that the second handle, which is located on the bottom of the fuel tank, is awkward to use initially until you get used to it.
Overall, users seem to like the fact that the blower is quiet, the controls are easy to locate and use and the Makita blower starts up on the first pull. Moreover, owners seem to appreciate the fact that the blower has reduced emissions, which can be an issue with some lawn tools, and that the unit is manufactured in the U.S. Other options include Greenworks leaf blowers, Worx, Milwaukee and Dewalt cordless blowers
Other Makita Leaf Blowers You Should Consider