Greenworks 25022 20-Inch Side Discharge Lawn Mower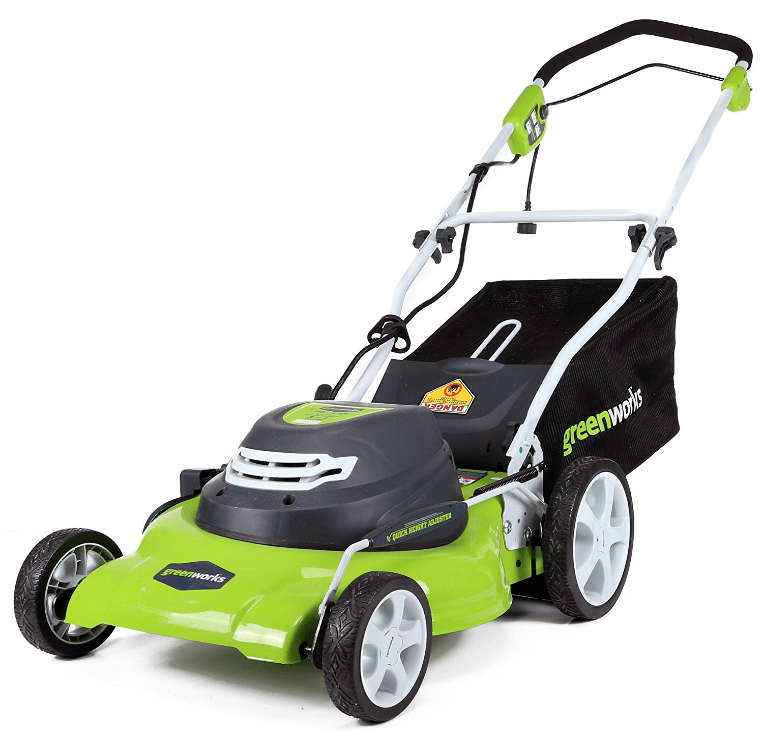 The Greenworks 25022 20-Inch 12 Amp Electric Bag Mulch Side Discharge Lawn Mower is an electric powered lawn mower which produces zero pollution. This quiet mower doesn't require gas, oil or batteries.
This mower is as useful and effective as any gas operated mower. Its 12-amp motor gives enough power to cut 20 inch wide grass.
Its flip flop handle does the job smoothly. The handle bar is built from metal, unlike plastic built handles in many other mowers. The metal handle bar gives much better grip and would not skid like plastic built handles do. It also has a folding mechanism. The height adjustment system of this mower is also better than that in most other popular lawn mower brands.

The Greenworks 25022 20-Inch 12 Amp Electric Bag Mulch Side Discharge Lawn Mower comes with 4 years of parts and labor warranty.
The Greenworks 25022 has a different kind of blade design, and it does the grass cutting job more effectively than its predecessor models. The mower does wonders on both small and thick lawn.
Greenworks 25022 is a maintenance free machine and does the operation silently. It would not generate any smoke like gas motors – in fact, the entire product range of Greenworks is well known for its zero carbon emission features.
In addition to that, it also has a far better standard warranty (four years) – almost double its predecessors. This is a clear proof of its quality.
Packed with seven positions, single lever height adjuster system, the Greenworks 25022 20-Inch 12 Amp Electric Bag Mulch Side Discharge Lawn Mower is ideal for mulching grass. The grass collection bag is ideally fitted, and the plastic made front and rear tires mow in lawn smoothly.
The specially designed cord lock feature stops cord disconnection. The cord has a button for turning the motor on and off. Cam lock on the handle makes the Greenworks 25022 easily folding and portable.  Extension cord is NOT INCLUDED with this electric lawn mower.

It cuts even a high lawn very easily through its single, powerful blade. Its 20 inch grass cutting ability makes mowing an easy task. The metal handle bar gives it smooth handling that is far better than a plastic handle. Being light, the Greenworks 25022 is easy for everyone to use, men, women, teenagers, seniors etc. The battery system with this mower is interchangeable with most of the Greenworks leaf blowers, string trimmers, & hedge trimmers

The ability to adjust its height makes it flexible for users of any height.
"It cuts the grass so effectively that I don't need to mow before 12 days. Our gas powered mower was bulky and heavier which was a pain in mowing in the small lawn. The Greenworks 25022 is lighter in size and very quite, so does the grass cutting job smoothly.""The 20 inch deck is the biggest advantage offered to us. You don't need to visit the gas station frequently which is a big advantage for this any lawn owner, most suitable for flat garden. Being an electric powered machine it does not pollute our green atmosphere."
Another user says, "It requires less maintenance as compared to a gas powered lawn mower. The one push safety button gives you a lot of peace of mind."

Become a yard master!    Get tips and ideas for creating a beautiful backyard