Storage Shed Comparison
A backyard storage shed can be a very important part of any yard. The most pressing question to ask before buying a garden shed is what is available and what is important to you.
When you are choosing your garden shed, consider what you will be using it for.  Do you need a small shed that simply stores garden tools, or will you need a large shed that is capable of housing vehicles? With the huge range of shapes and sizes available it will allow you to fit your shed perfectly into your space.
Are you parking your car in the driveway because you have no room left in your garage for your car? Are your closets stuffed full of sporting goods and cleaning supplies and boxes of winter clothes because you have no room in your garage? If this sounds like you and your home, an backyard storage shed might be the space-expanding solution for your family. They are wonderful solutions to getting more storage space for your family. They are great for storing outdoor tools and gardening supplies, and at the same time they allow you to keep the tools and supplies inside, and not get your house dirty but still have room in your garage for your car. Things you usually store in your garage like soil, fertilizer, and lawn tools can be easily and safely stored this shed.  I reviewed a ton of sheds for this article, and picked the 5 best backyard shed's you'll want to consider in 2019 if you're looking to clean up that garage and yard once and for all.
#1.
Keter Manor 6 x 8 ft. Resin Garden Storage Shed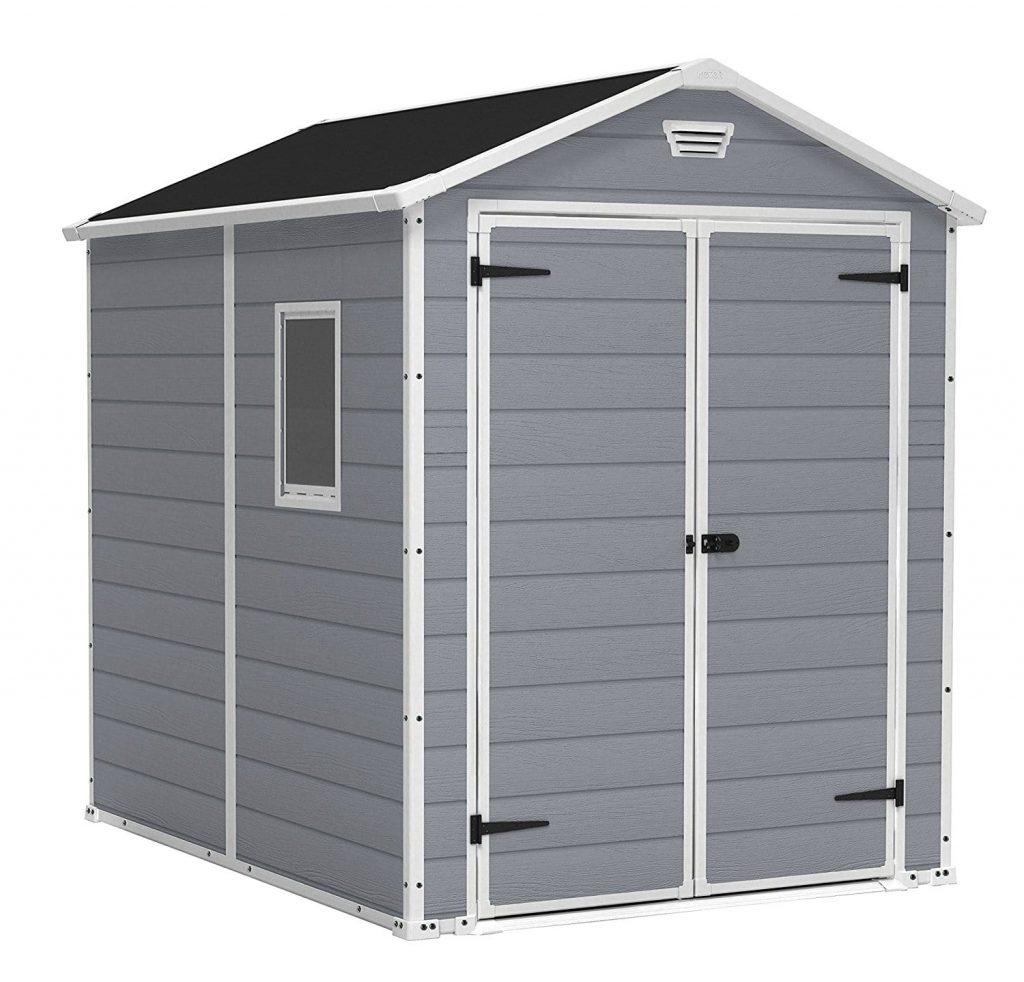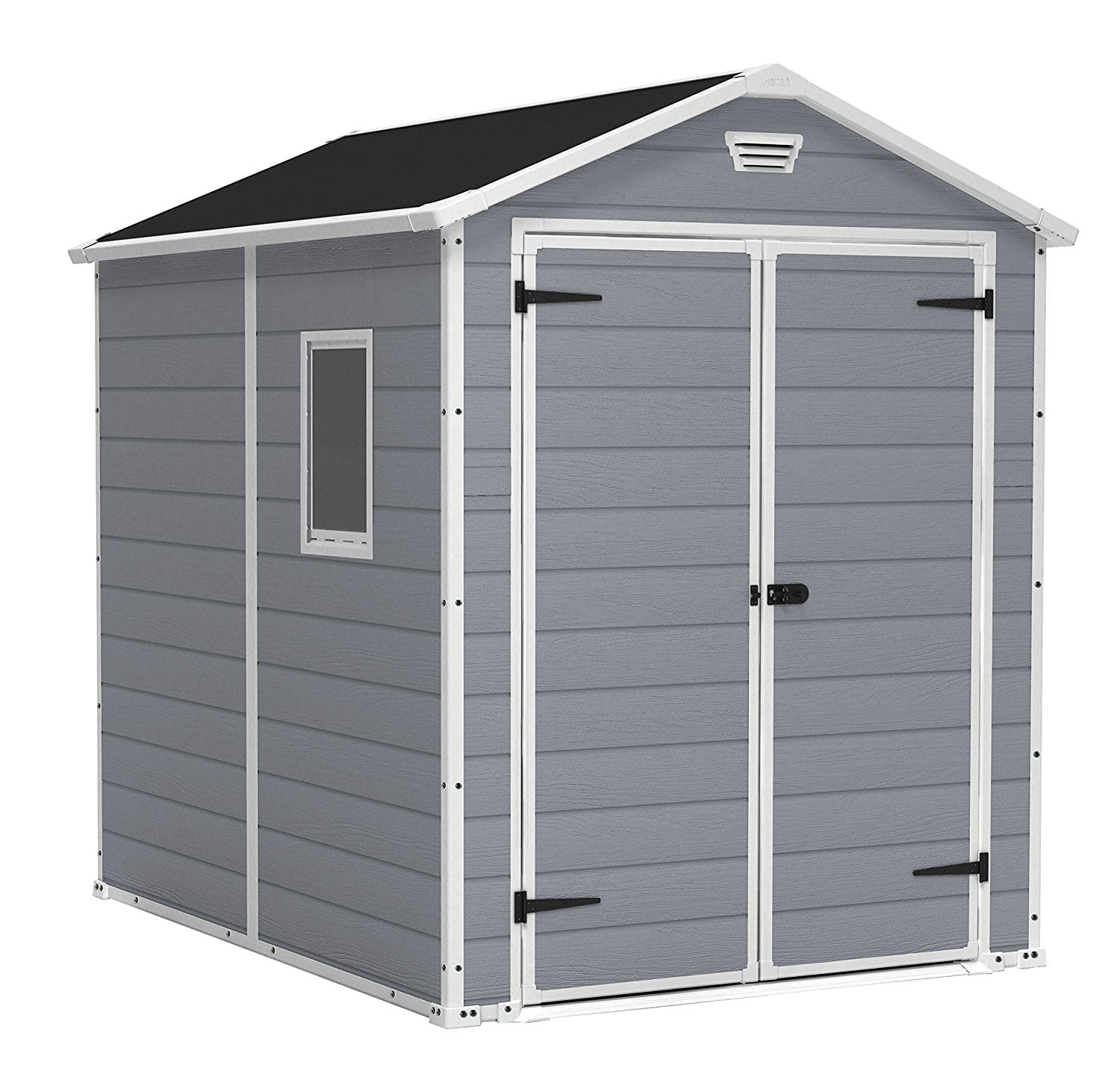 This shed by Keter Manor is my number one pick mainly because it looks great and has plenty of internal square footage to organize just about anything you want to get out of the garage or attic.  It's constructed from strong polypropylene resin and reinforced with steel, so this shed is going to be standing for a lot of years.  Another great benefit is you will never have to paint, stain or seal the exterior of this shed and it won't rot or rust like many of it's competitors.
If you have lawnmowers, wheelbarrows, gardening tools, firewood or bikes and backyard gear that have no real home, this shed is an excellent option for all of these items.  The extra large double door is big enough for just about anything you want to store.  This shed comes with a small vent at the roof peak to help keep air circulating.  This is especially important if you plan on keeping garbage or recycling cans in the shed.  It features a sturdy lock on the double doors and has a built in skylight and window so there's plenty of light inside during the day.  You could easily run an extension cord and have a small shop light inside for those times you need to access the shed after dark.
I really like the faux wood siding that's molded into the resin.  It looks like real wood and makes the entire shed extremely attractive for any yard.  The fact that the exterior is UV resistant means it's not going to fade and look bad after a year or two of being in the sun.  Instructions were very easy to follow, but you may want an extra set of hands for assembly.
This shed is a mid range price point around $600.  You can definitely spend more on a backyard shed, but you don't need to with solid unit from KETER.
Dimensions & Details
Interior Dimensions: 66.5 in. W x 87.4 in. D x 86.5 in. H

Exterior Dimensions: 73.1 in. W x 93.2 in. D x 89.4 in. H

Storage Capacity: 131.8 cu. ft.
Floor Weight Capacity: 30 PSF

---
#2.
Arrow Newburgh Steel Backyard Storage Shed, 8′ x 6′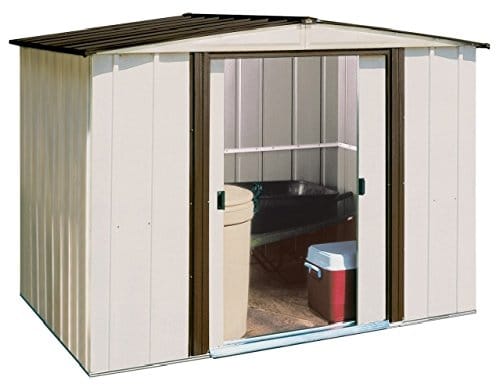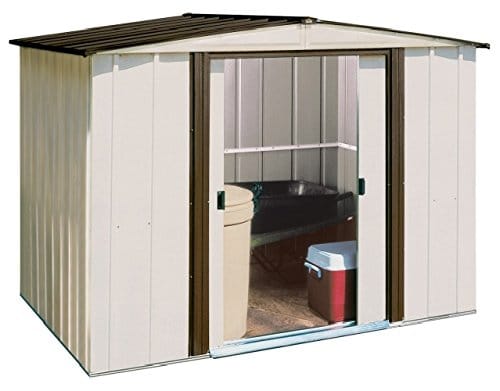 The second shed on my "Best Shed" list is from Arrow.  This is your classic outdoor steel storage shed which had dual sliding doors and plenty of room inside for all of the stuff you want to organize or just get out of the garage.  It's constructed from corrosion resistant electro-galvanized steel which helps prevent rust and wear from wet weather.  It has a steel reinforced gable roof which makes the entire shed more rigid and it is looks much nicer than the flat roof metal sheds.
Assembly isn't too difficult and all of the parts are pre-cut and drilled.  Some holes didn't line up especially well when we were putting it together, but anyone that's slightly handy shouldn't have any problem constructing this shed.  There's no lock on this model, so you will want to buy and install some type of pad lock mechanism if you need to keep your items secure
You will want to level out a space in your yard for this unit, as you will need to use some 3/4 plywood sheeting for the floor.  If you have a concrete pad available, that would be preferable, otherwise you may want to use some crushed stone or gravel and level that before building this shed.  Another option would be to build a raised foundation out of pressure treated lumber and install the shed on that.  This shed isn't sexy, but it gets the job done and isn't expensive.
Dimensions & Details
Interior Dimensions: 94 3/4″ x 66″ x 66 5/8″
Interior Cubic Feet: 230
Interior Square Feet: 43
Necessary Foundation Size: 97 1/2″ x 68 3/4″
Door Opening: 43 1/2″w x  58″h

---
#3.
Keter High Store 4.5 x 2.5 Vertical Outdoor Resin Storage Shed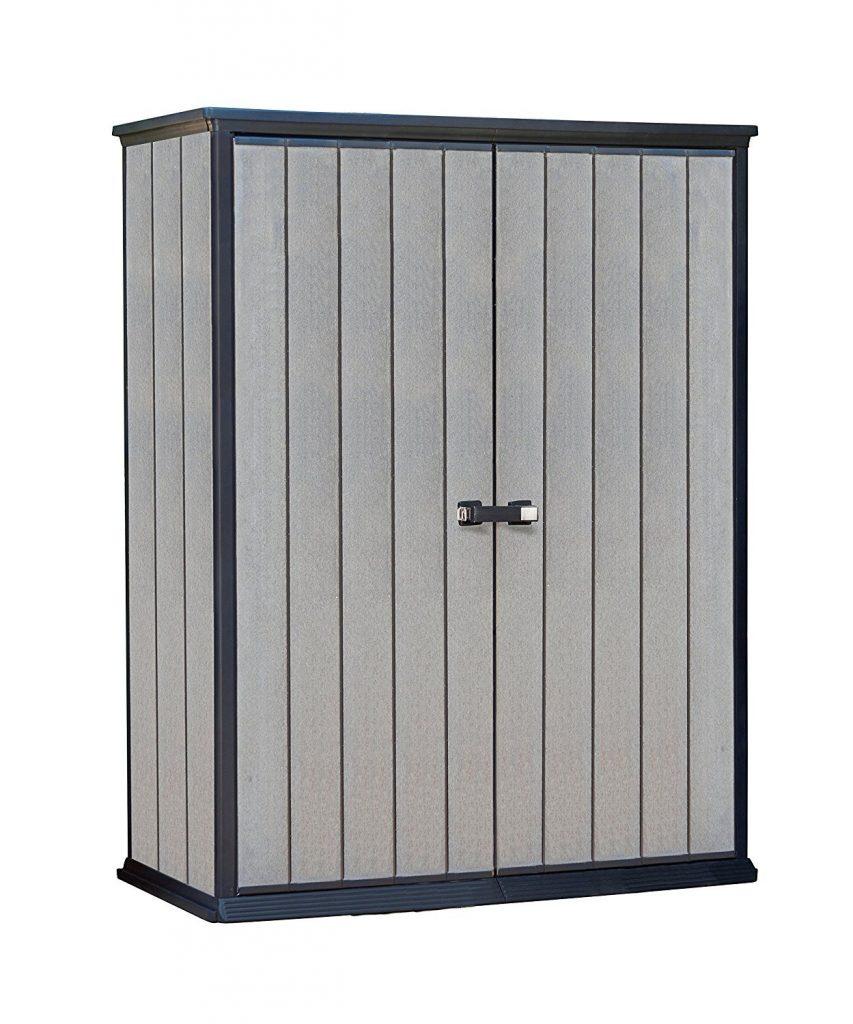 Number 3 on my list is another great shed option from Keter.  I wanted to include at least one vertical outdoor shed because I know not everyone has unlimited space for shed with a large footprint.  The Keter High Store model is perfect if you need to store gardening tools, a small cordless lawn mower and other miscellaneous items.  The compact size makes it very inconspicuous and it will easily fit on the side of most homes, even if you don't have a wide space.
The double opening doors are the full width and height of the shed, which gives you easy access to brooms, rakes and other long handled tools.  The wall panels are rib reinforced and the heavy duty floor panels are definitely adequate.  On the inside, there are adjustable brackets which allow you to install 2 shelves, but they are not included with this shed kit.
Assembly is a breeze and can be done by one person if necessary, but a second set of hands never hurts.  Again, the no maintenance factor of this shed is very inviting.  I love not having to paint or re-seal wood every couple of years.  The shed weighs just under 100 pounds, which is light by shed standards.  With help, you can easily move the shed if needed.  Make sure you level out the ground before setting in place.  This is one of the nicest small to mediums sized sheds I tested
Dimensions & Details
Floor weight capacity: 30 PSF
Roof weight capacity: 15 PSF
Exterior Dimensions: 54.9 L X 30.3 W X 71.5 H inches
Interior Dimensions: 50.5 L X 27.2 W X 69.5 H inches
Door opening: 49W X 69.1H inches

---
#4.
Suncast BMS8700 Tremont 8′ x 7′ Storage Shed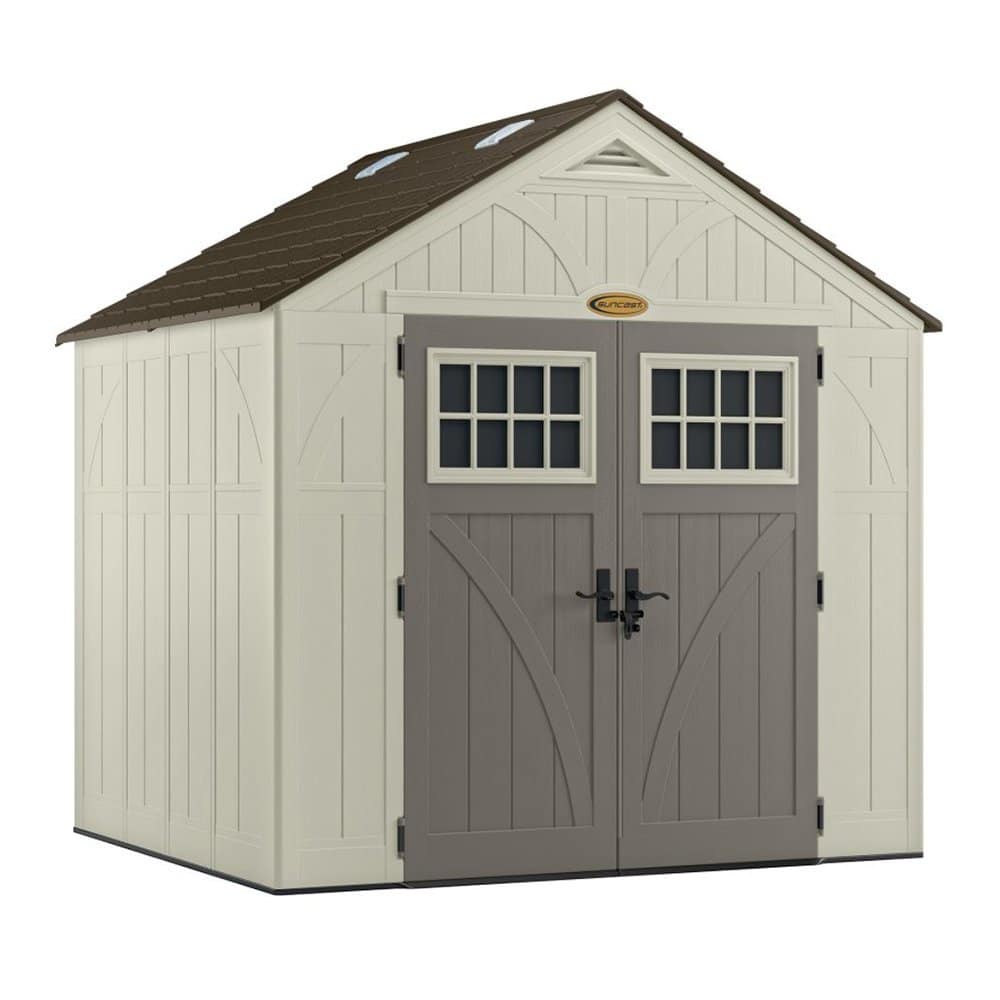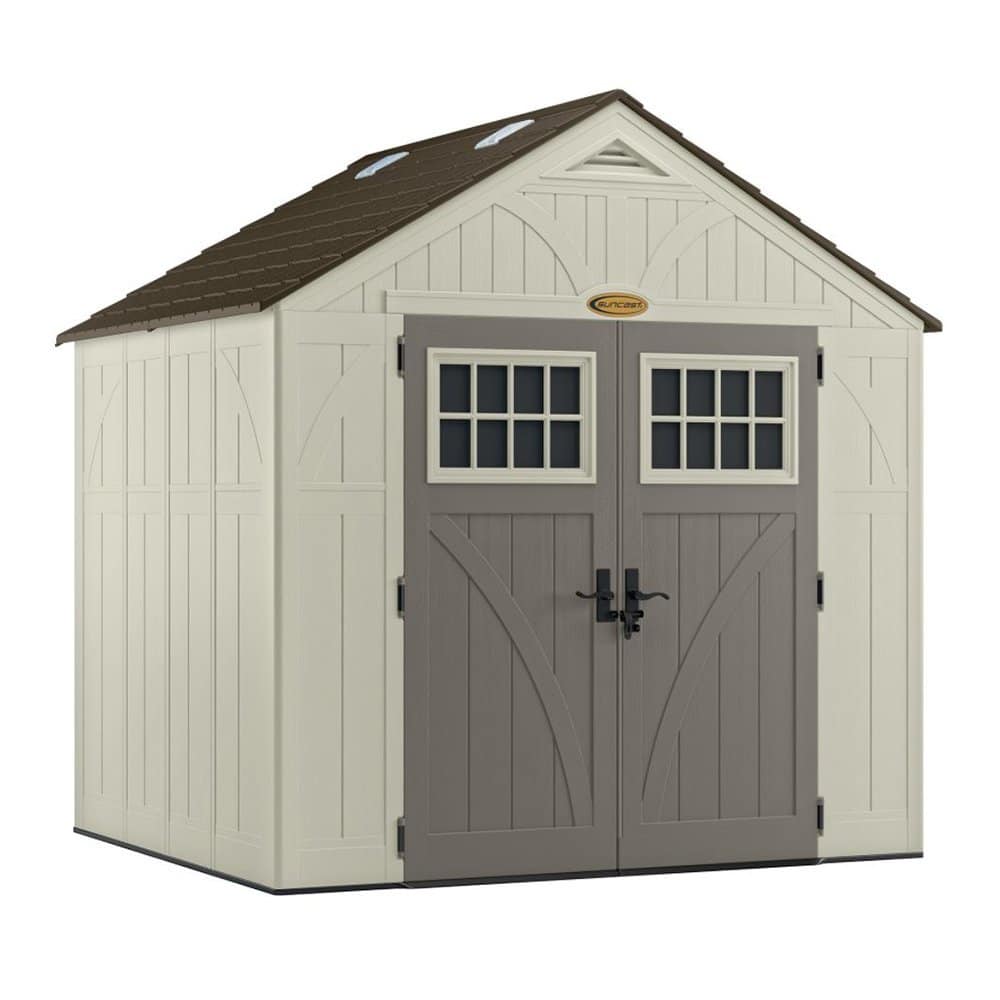 The next outdoor shed on the list is the Suncast Tremont model.  This 8'x7′ storage shed is the solution to all of your storage problems and has the looks as well. This model is made from double wall resin with steel reinforcements.  It's extremely sturdy and has space for just about anything you can think of, short of a boat or vehicle.  I like that the roof is also constructed from the double wall resin and has a metal truss system which add additional rigidity to the entire shed.
The roof has 4 installed skylights and the doors have two divided light windows which provide ample lighting inside the shed. Construction takes about 4-6 hours with help and the instructions are easy to follow.  The double doors are plenty wide for wheeling in trash cans and other large items and the handles/locks are good quality.
The kit comes with 2 interior corner shelves and there are 8 other locations for shelves inside as well.  You have to purchase additional shelves from Suncast.  Amazon has free shipping on this shed for Prime members which is awesome considering how large the packaging is.
You will need a level area or concrete pad in your yard prior to assembling this shed.  I highly recommend this unit if you're looking for large square footage in a sturdy, reasonably priced shed option.
Dimensions & Details
Interior Cubic Feet: 378
Door Opening: 60″ W x 72″ H
Weight: 312 pounds
10 year limited warranty

---
#5.
Lifetime 6406 8 ft x 5 ft Outdoor Storage Shed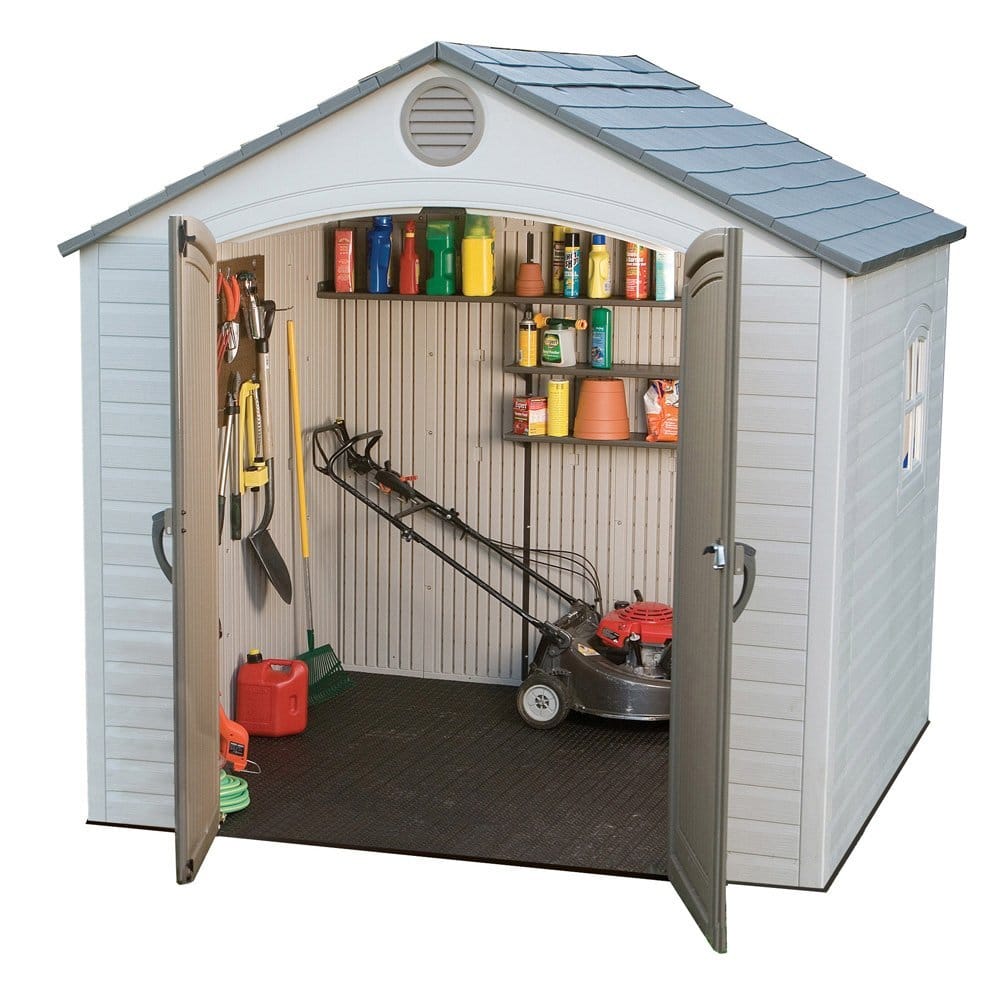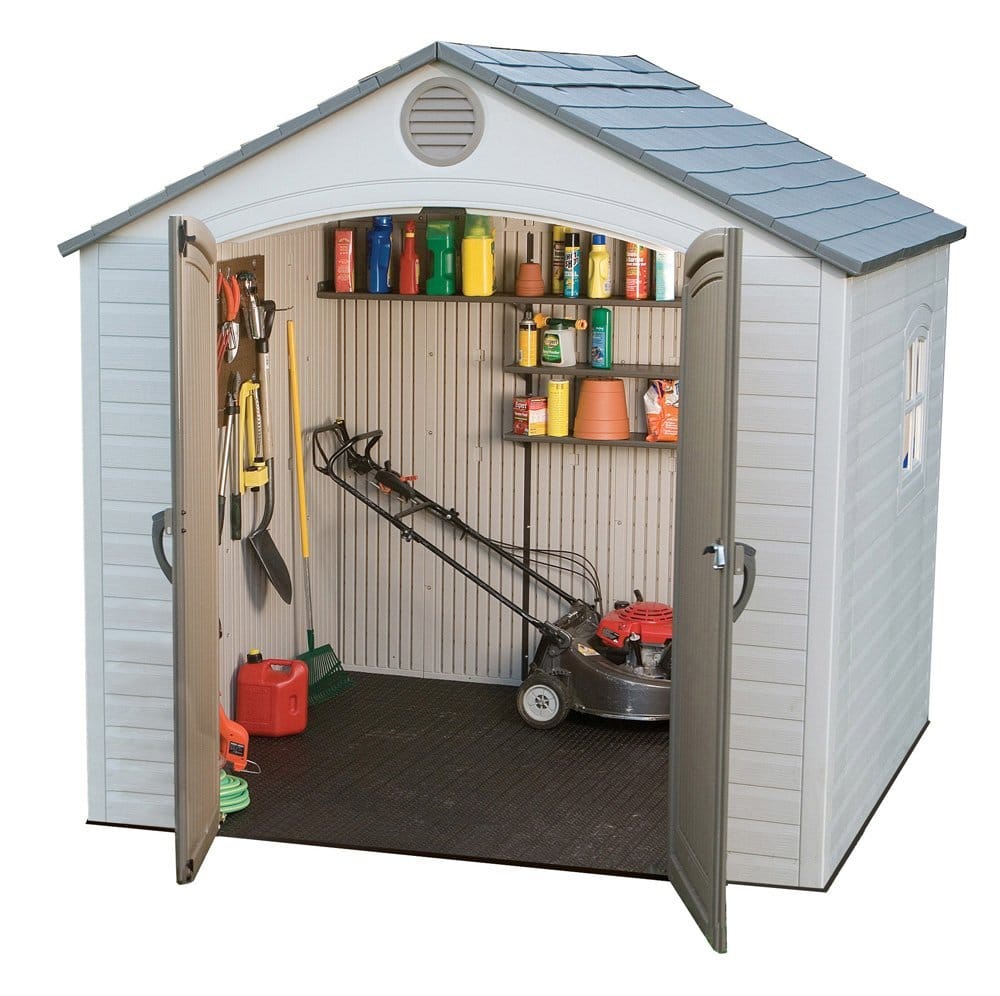 This shed by Lifetime is sturdy and effortless to take care of. Lifetime sheds deliver uncompromising storage to whatever needs real protection in your backyard. The tough polyethylene construction of the of walls, floor surface, and roof mean they wont degrade, rot, or attract termites like woods sheds, but still offer rigid support and resistance to UV damage or anything else the outdoors can dish out. Built-in shelving keeps tools and supplies organized, shatter-proof windows that open and lock and multiple skylights create a fresh and pleasurable mood.
This is the only model I tested that has a built in interior light, so you can get to all of your gear even after the sun goes down.  The slip resistant floor is also a nice feature as many other sheds in this class have much smoother flooring materials which can make slipping a real possibility.  The deadbolt locks are plastic, but still feel relatively secure.  If someone really wants to break into this shed, they're going to find a way no matter how heavy duty a lock is installed.
There are several shelving options inside including a full width upper shelf, two smaller shelves and 2 corner shelves.  All provide great storage and keep items off the ground.
Dimensions & Details
Interior Square Feet: 33.8 sq/ft.
Interior Cubic Feet: 232.7
90″ x 9″ shelf
(2) 30″ x 10″ shelves
(2) corner shelves
UV Protected to Prevent Weather Damage

---
Backyard & Outdoor Shed Buyers Guide
Wooden Storage Sheds
These types of outdoor storage sheds are the classic old fashioned types of storage sheds and they can easily be added on as needed. Wooden outdoor storage sheds need to be well maintained because they are not safe from weather elements. The wood will need to be painted every few years and will need to be waterproofed to keep the items inside your shed safe and dry.
Plastic Storage Sheds
Because of the weather problems with wooden outdoor storage sheds many homeowners are choosing to buy sheds made of molded, thick plastic materials instead of wood. These plastic outdoor storage sheds are an excellent low cost outdoor storage shed option that needs very little upkeep. Plastic outdoor storage sheds are waterproof, and are specially treated to resist fading from the sun. This type of outdoor storage shed comes in easy snap together kits, and some even have features like pre-molded notches that will allow you to install your own wooden shelves.
Metal Storage Sheds
An inexpensive option is metal outdoor storage sheds. They usually come fully assembled or you can also buy do-it-yourself kits if you prefer. One of the negative benefits to metal is a tendency to get dented over time, and metal can rust with prolonged exposure to weather conditions. Because of this, vinyl outdoor storage sheds are becoming quite popular.
Vinyl Storage Sheds
For many people vinyl outdoor sheds are reasonably priced and maintenance free. They do not dent, rust or mildew, and vinyl outdoor storage sheds never need to be painted or waterproofed. They are easy to install and maintain and are resistant to most weather conditions.
While these sheds are great options, when buying an outdoor storage shed you need to consider the climate and area you live in before choosing one for your home. Some sheds hold up better in windy climates better than others, and others might hold up well under heavy snowfall. In selecting a shed you want to look at whether it will be functional and large enough for your growing needs while at the same time able to withstand your local climate, and attractive enough for you to look at day after day.
Other Things to Think About When Buying a Storage Shed
How much of the garden shed do you want visible?Any garden shed that is on display will ideally be presentable than a standard utilities shed.Matching your shed and house will complement your house and garden.It will not matter what materials you use to build your garden shed as much if it is going to be hidden away.A lattice screen would be good to hide the shed and grow plants on.
Bear in mind the amount of space you have available.It is pointless to plan for a shed that can hold a ride on mower, gardening tools and a motorbike if you don't have the space.Try to manage keeping things in proportion.Ideally, ensure that you have good access to your shed.You want to avoid hitting your head when putting tools away or have difficulty getting to your lawnmower thanks to a hard to get to corner or the fence line being too close.
Types of Garden Sheds
Sheds can be prefabricated or custom-made. Prefabricated garden sheds are a convenient option and you can build these yourself if you desire, or have the garden shed manufacturing company install it for you, depending how confident you are.kit form sheds that are made from steel will be more durable and easier to maintain. Considering the steel of prefabricated sheds can be powder coated they are available in many different color options.Depending on your needs your shed is available with flat, gable and skillion roofing and styles and either one, two, three doors.
Detailed instructions will accompany the prefabricated or kit garden shed for you to easily understand. The construction of your shed is made easier with the walls and roof panels already complete.
Made to order garden sheds are more flexible and thus give you more room to move, design wise.They are able to be constructed from steel, stone or timber.This would allow you to correspond the design of the shed much more closely to your house, especially useful if you have any feature on the house which cannot be imitated on a normal kit shed.If you choose a timber shed it will need more maintenance than stone or metal shed but it has the alternative of using paints, oils or stains.Just ensure the wood you choose is appropriate for outdoor use.Steel garden sheds will be highly priced compared to others on the market but they will last a very long time.
If garden space is limited then you can purchase a storage unit that fits anywhere in the home and will still be big enough to store your tools and gardening equipment.Constructed from steel.Opting for a utility shed for your larger items such as a boat, trailer or car would be the best thing.Included with these is oversize door openings and a personal access door.Workshop sheds are ideal for any hobbies that need a lot of space, such as woodworkers or metalworkers or for storage or just for tinkering.
Trends for Storage Sheds
It is fashionable to partially conceal the garden or make it look like it has always been there.Ultimately you will need to plan and design it carefully to avoid the 'standard metal shed' look.All materials are an option, including pine, cedar and corrugated iron all being options.Woods such as pine and cedar are very flexible in that they are very good at creating a traditional look, right through to a beachy or modern look.Corrugated iron will give your garden shed a look that says it has been there longer than the garden itself.
The heritage shed is a new innovation that allows the customer to match the shed with their older, heritage-style homes, with matching finials and color schemes.
Finally, the backyard buddy is a great new innovation that allows people with less room to have a shed.If your looking for some storage fit into a small space then a Backyard Buddy is the perfect shed to use, made from steel with a lockable front roller door. Their width and depth are customizable to fit in even the most awkward area of the garden and they are available in a huge range of colors.