Cool down fast with a high efficiency whole home fan. If you're like me, you absolutely hate running the air conditioning even during the hottest months of the year, because you can virtually watch the meter ticking off dollar bills as you try to keep your home cool.  Unfortunately,  air conditioning and the high electric bill that comes with it are a part of life for most of the country.  There are also potential health repercussions from using traditional air conditioning units.  The air that is used is recirculated and never vented, so any dust or contaminates are blown back through your house, over and over again.
With a whole house fan, the air is drawn in from the outside.  This keeps cooler, fresh air circulating through your home while the fan is running.  The fan sucks out the warm air and blows it into the attic space or out a roof vent.  These fans come in multiple sizes that will work in just about any home.  They use considerably less electricity than an A/C unit, so you will not only cool your home down efficiently, but also save some money on your monthly electric bill.   I've reviewed over a dozen whole house fans and put together a list of the top performers.  This is a solid investment for your home, but you definitely want to get the best unit for your budget.
Comparing The Top Whole House Fans
#1

QuietCool QC CL-3100 Original Classic Fan Model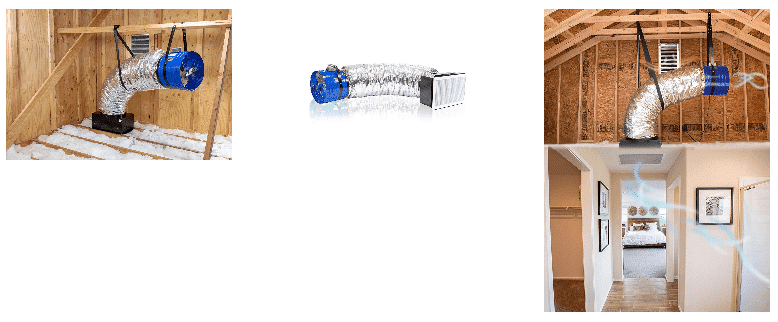 My top pick goes to the QuietCool QC CL-3100 fan system.  This unit features a self contained duct system that hangs in your attic to provide less sound and noise vibration when the fan is running.  You can choose from 1,464 CFM air flow up to a whopping 6,924 CMF depending on the size of your home.
This model features barometric pressurized gravity dampers which close automatically when the fan air flow stops.  This ensures that you don't let heat escape back into your home from the attic or lose cool air into the attic.
The CL-3100 can handle a home up to approximately 1,600 sq/ft and with the high efficiency motor, you get amazing cooling performance and less energy usage.  Definitely put this QuietCool home fan at the top of your list.
#2

QA-4800(R) Whole House Fan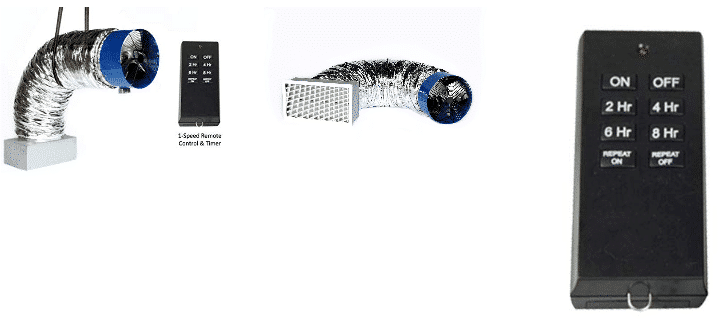 QA Deluxe Fans makes some amazingly high quality products and these fans are beasts when it comes to moving hot air out of your house and sucking in cool air from outside.  The 4800 model we tested can handle up to 2600 sq/ft single story homes or 3400 sq/ft two story homes.  It can literally cut your A/C bill by up to 90% in some cases.  This fan is perfect if you live in an area that has very hot days, but cooler evenings.  Flip this fan on before dark and feel the immediate cool down as the cooler air is drawn in and the hot air expelled through the attic.
Installation of the 4800 fan is very straightforward.  In about 90 minutes you can have this whole home fan mounted and hooked into your existing attic electric.  One nice feature of the design is that the QA fans are built to fit between 16″ and 24″ joists, which means you won't need to do any extra framing before you mount the fan.
This fan runs on 120v and weighs approximately 60 pounds, so you will probably need an extra set of hands to help you get the unit into the attic for mounting.  At just 54dB, this fan is extremely quiet for the size.
#3

Centric Air 3.4A Fan

Power Actuated Cold Weather Damper


#3 on my list is the Centric Air 3.4 attic fan.  The only reason this fan didn't rank higher was because the price tag is a little high, but you definitely get a high quality fan unit for what you pay.  This fan comes with power actuated weather dampers and a 2 speed wireless remote control, which is so nice because it means you don't have to install a timer switch on the wall.
This fan uses 382 watts of power and can run for pennies on the hour.  Much less than your current A/C system.  This fan is rated for over 40,000 hours of use and is up to 30% more efficient and powerful than other industrial fans in this price range.
One of the things that keeps this fan operating so quietly is that it it's not belt driven, like other attic fans.  The direct drive keeps the noise down and the energy savings up.
Installation is relatively easy as well.  The most difficult part is running the electrical to the fan unit, but if you're not comfortable with this as a DIY project, you can definitely hire an electrician to run the wiring and it shouldn't cost a ton.  The fan weighs about 65lbs, so you'll need some help getting it into the attic.
Wait until a hot evening when you crank this fan on and feel the cool air being pulled in from outside.  You'll wonder why you took so long to install a quality whole house fan.
#4

QuietCool QC CL-2250 Original Classic Fan Model


I ended up including another one of the Quiet Cool fans on my recommended top 5 list because it's a slightly smaller model than the 3100 I listed in the #1 spot and it's less expensive as well.  The QC CL-2250 produces approximately 2,280 CFM of air movement which is absolutely perfect for homes in the 1,100 sq/ft range.

Just like the other Quiet Cool models, the 2250 features the patented self contained duct system which really helps keep the sound volume down from inside the house.  Sound can be further dampened by using the approved strap hanger system for the fan unit, which eliminates excessive vibration into the house structure.  You should notice very little, if any sound inside the house when the fan is at full power.
This is the original classic fan line from QC which first came out in 2003.  They've been making advanced home ventilation systems for over 15 years and are by far the most popular when it comes to whole home fan cooling.
The fan motor operates on low voltage and amperage, keeping electricity usage to a minimum and reducing your electrical bills.  This unit also features a 10 year warranty, so if you have any issues at all in the first 10 years, you are 100% covered.  This alone makes the QuietCool fan worth picking up.
#5

Tamarack

HV1000

Insulated 1150 CFM


Last, but definitely not least on the list is the Tamarack HV1000 insulated fan system that produces up to 1,150 CFM at 70 Watts of power.
This is a slightly different fan setup from the others I reviewed, as it doesn't have the duct work with the fan at the end.  This unit mounts right to your ceiling joists in the attic and the fans point directly down into the house.  The main benefit of this is that it takes up less space in the attic.  It also is more compact and weighs about half of the bigger duct fans.
If your home is in the 1,100 sq/ft range, this is the size fan you want.  Tamarack makes larger units as well for bigger homes.  Even if you have a bigger house and decide to install this model, you will still get plenty of cooling performance, you will just need to run the fan longer to cool the entire home.
The HV1000 uses minimal power, keeping the bills low and is very quiet during full power usage.  Installation is very simple, especially if you already have an available power outlet near the installation location of your attic.
Price point is also reasonable at nearly half the cost of similar sized duct style home fans.  I would definitely put this on your list of fans to consider, especially if you have a moderate sized home that doesn't requite a massive fan to cool it down.
---
Your Home Fan Buyer's Guide
Whole home fans are a major investment for any homeowner. The larger the home the larger the investment. Therefore purchasing a home fan that meets all of their requirements and is high is it going to be quality enough to last for many years is a must . I want to help educate you and give you all of the knowledge you need to purchase the right whole house fan that will work perfectly in your home.
Well you could very easily go to the local hardware store to purchase one of these fans and have it work just fine, there are still a few things that you should know about and consider before making a purchase. The size of your house is the number one factor in determining which whole home fan you should purchase. The quality of the fan itself is the next most important thing.
Be sure to take your time and read all of the specs. that I provided on the product listings above. This will ensure that you get the right fan for your home and the cooling you need.
What you need to know about whole home fans
While there are many different types of fans you can install in your attic not all of them are as efficient for cooling your home as others. Roof fans and Gable fans do a good job of venting your attic space, however they don't do a good job a cooling your actual living space. This is where a whole house fan gets the job done better than any other type of fan .
Not only will you be able to cool your home down in a fraction of the time of an air conditioning system, you'll be paying Pennies on the dollar compared to the expense of running your AC for hours each day. These fans are energy efficient which helps them cool your home in a fraction of the time.
We all want our home to be comfortable but in many areas of the country the summer heat can be overwhelming. Nobody enjoys living or sleeping in a house that's too hot. Installing a fan system is the most efficient and least expensive way to keep your home comfortable year-round.
In the next section I'm going to give you a little bit of information about some of the common questions that come up when considering buying a whole home fan system.
Are whole house fans effective at Cooling?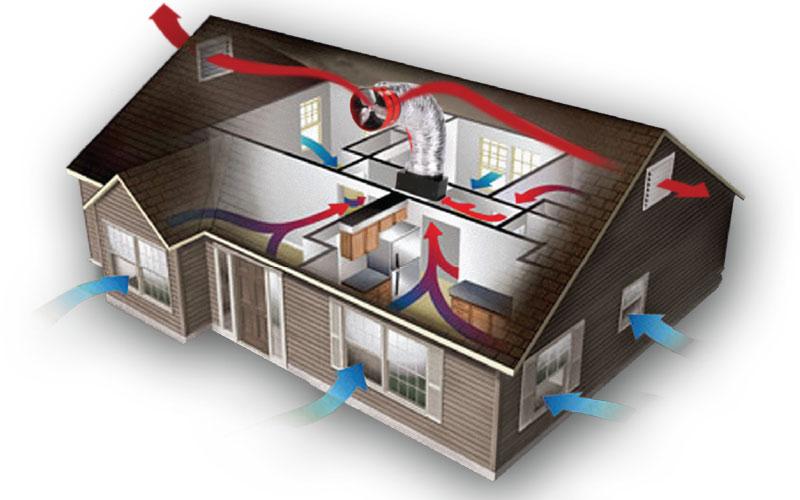 Virtually everybody knows that an air conditioning system is one of the best ways to keep your house cool in the summer. But the fact that running the AC night and day can nearly triple your electric bill makes it hard for some homeowners to swallow. With a home fan system you don't need to run the unit constantly to cool down your home. You can flip it on a couple times during the day for several minutes or turn it on right before everybody goes to bed to make sure the house is cool for sleeping in.
Whole home fans are extremely effective however they are dependent on several factors to be completely efficient. They very easily move large volumes of air out of your home and into your attic space quickly. However to really cool your house down properly the outside temperature needs to be considerably cooler then the inside temperature of your home. If your home is 85 degrees inside and it's 95 degrees outside your fan is only going to suck in hotter are and not cool your home down very well. If you live in a climate where you have hot days and cooler evenings you are a prime candidate for installing a whole home fan.
At the end of the day simply open the door to or crack a couple of windows and turn your fan on. The fan will pull all the warm air out of your home and vented into your attic and at the same time, draw the cooler air in from outside. Depending on the size of your home you can replace all of the warm air with cool air after just a few minutes of running your fan.
One of the downsides to the volume of air that these fans can move is that they will also tend to pull in dust are particles that are in the air outside as the cooler air replaces the hot air in your home. Well it's probably not enough to be a health concern you will likely notice your home is a little dustier during the times when you run your fan. It's a small price to pay for having a comfortable temperature in your home.
How energy efficient are whole house fans?
Now that you know how effective a whole home fan system can be you're probably wondering exactly how much energy you're going to save, and dollars, over using your traditional air conditioning system. This is definitely one of the main reasons people tend to go with a whole home fan unit is because running the AC is far too expensive to do for an entire summer season. The benefit of the whole home fan is that you can run it in short bursts for quick cooling. This means you're not drawing continuous electricity like a normal AC.
The motors these fans use are extremely efficient and can produce high power output without consuming a lot of power. Meaning they will suck a lot of air without using a lot of electricity in the process. Most home fans like this will use between 200 watts and 700 watts of power. A typical air conditioning system can use over 2000 watts of power and up to 5000 watts of power. A whole home fan only uses 15% of a standard home air conditioning system. This is what makes a whole house fan so desirable compared to normal AC.
Consumers who installed a whole house fan unit have reported only increasing their monthly electrical bill by $20 for home Cooling during the hottest month of the year. By comparison most homeowners with an air conditioning system see an average increase of over $250 a month when continually running their air conditioning. Again these numbers will vary but this gives you a pretty good idea of how much more efficient at whole home fan is over an AC unit.
Let's talk about the cost of the unit itself. You can pick up a home fan anywhere from several hundred dollars up to around $1,800. Installation of the unit can cost another $500 to $1,000. So in the end you might have invested just under $3,000 for your cooling fan system. Let's compare that to a forced air AC system where the unit itself will run likely $4,000 or more. Installation is going to run well over $1,000. So you've invested over $5,000 for a traditional air conditioning system for your home which is also going to cost you another $250 a month during the months you run it.
I'm no rocket scientist but I can definitely tell you that a whole home fan is a considerably cheaper investment initially and monthly.
Installing a whole home fan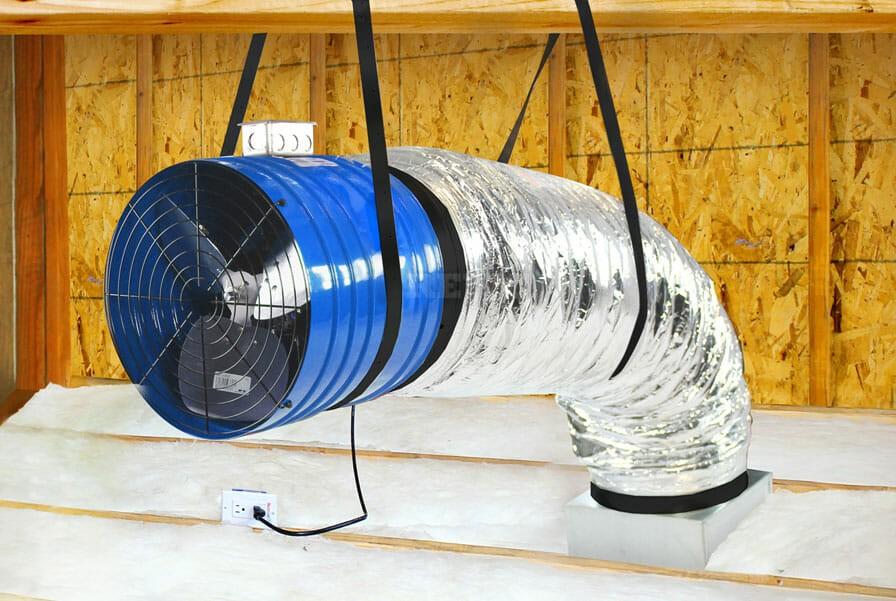 Before you install your whole house fan make sure you've chosen one that matches the size of your home making sure it will fit in your attic or crawl space area. There are different sizes and shapes you can pick from so finding one that will fit your particular space shouldn't be difficult .
Choosing the right size fan and ventilation
It's important to know the interior square footage of your home before you purchase your fan. If you don't know the interior square footage, measure the length and width of each room with a tape measure.
Multiply the total interior space by 2 and this will give you a guide for choosing the proper fan size. Fans are rated in CFM, which means cubic feet of air per minute. The fans will also be rated for a specific range of interior square footage. Make sure you choose a fan that is rated for the size of your home. Do not include basement square footage in your calculation.
Safe fan installation
if you're planning on installing your whole home fan yourself make sure you follow all of the manufacturer instructions and take necessary safety precautions like shutting off the power and wearing appropriate safety gear when using power tools.
Installing the ceiling vent
Your whole house fan will likely come with a paper template is installed in your ceiling outlining the size of the intake vent which is installed in your ceiling. If your attic has open joists,place the template in between the joists where you want the intake vent to be located.Cut out the indicated area's per the template. You shouldn't need to cut any of the Joyce themselves as most home fan units are designed to fit in between 16in and 24 in standard joists.
Running power to the fan
I'm no electrician, so I'd rather not try to give you proper instructions for running power to your fan, however you do have several options with most of the whole home fans. Some will have a remote control for the fan, and you will just need to plug into an available outlet in the attic near the fan unit to have it up and running. Other fans will have to be wired with a switch somewhere in the house so you can turn the house fan on and off. This is the trickier of the 2 options, so if you aren't good with electrical, or don't want to pay to hire this job out, I'd suggest getting a fan with a remote control that you can operate from inside your home. It's a much simpler installation process.
Securing the fan unit
You may need to create a platform for the fan to sit on inside the Attic.You can do this by nailing a piece of plywood to the joists where you want the fan unit to sit. Some fans come with straps that allow you to hang the fan from the roof joists. The benefit of this is that the fan is not touching any part of the house structure transferring vibrations that you will hear from below. No matter which method you use be sure to secure the fan properly so that it does not move around when running.
Check power settings
Once you have your vent installed and your fan unit secured and power run to your fan you will want to adjust the motor speed settings and make sure the fan unit is still tightly secured after running the fan for a period of time.
Wrapping Up
Now you know a whole lot about the different types of whole home fans, how they operate, the costs involved and some basic installation instructions. You should be more than prepared to choose the right fan for your home and get it up and running in no time. You'll have a much cooler house, a happy family and cheaper electrical bill each month.
*Disclaimer – Be sure to follow all of the manufacturer instructions for safe installation of your fan. The tips & suggestions given in this article are not to be substituted for the manufacturers recommended installation instructions. Take all necessary safety precautions when using power tools or working with electricity.