The Best Propane Fire Pit for 2022
Featured Backyard Propane Fire Pits Reviewed

Amazon, Amazon Prime, the Amazon logo and Amazon Prime logo are trademarks of Amazon.com, Inc. or its affiliates. This website is a participant in the Amazon Services LLC Associates Program, an affiliate advertising program designed to provide a means for sites to earn advertising fees by advertising and linking to Amazon.com. We may earn a commission when you click on links and make purchases on Amazon
Choosing the Best Propane Fire Pit For Your Backyard
I like to think of the fire pit as the heart of the backyard. A place where friends and family can gather year round and enjoy good conversation over a cold beverage. With the right outdoor fireplace, you can also add an elegant focal point that will beautify your backyard space for years to come.
Choosing a quality, outdoor propane fire pit for your yard is no easy task mind you. There are dozens of options, styles and finishes available in both propane fire pits and wood burning fireplaces.
For this article, I wanted to test out a bunch of propane fire pit/ fireplaces that would work for nearly any backyard. I chose several different styles and price points and came up with 5 picks that are the best fire pit for adding some flair to your yard.
1.
Fire Sense Longmont 35-Inch Propane Fire Pit Table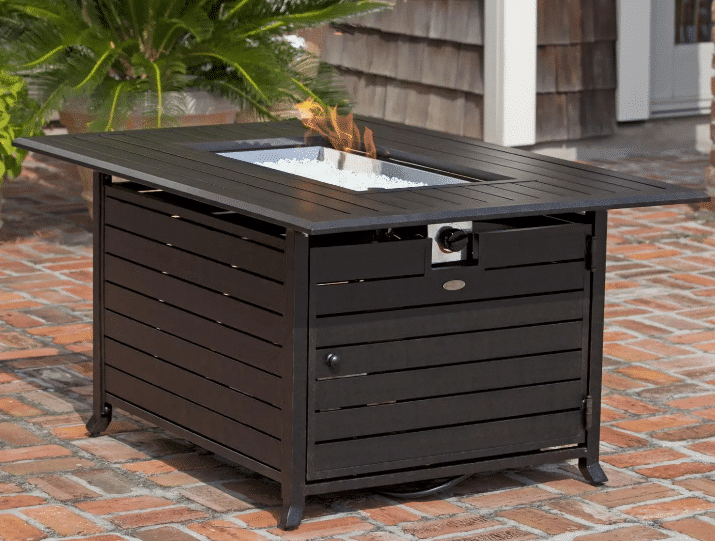 If you're ready to add the best portable propane fire pit to your patio at an affordable price, the Longmont 35″ unit is the way to go. With up to 40,000 BTUs of warmth you'll have plenty of heat in an attractive antique bronze finish. You also get a cast aluminum lid which not only protects the heating unit, but makes a nice flat table when you're not being used as a fire pit.
All in all, it's hard to find a major con to this unit. It's easy to light, it produces plenty of heat, and it stays lit as long as I need it to. The price is very reasonable for this well built unit that will last for many years, so it's worth the investment if you're looking for the best outdoor fireplace for the money.
Review Summary
You can definitely spend a lot more on a portable propane fire pit, but this model by Fire Sense will be the talk of your patio. It's made from high quality materials, absolutely cranks out the heat and comes with all of the accessories you need to start enjoying an outdoor fire right away. This is a best portable fire pit that will last for many, many years. You will spend many evenings enjoying a beautiful fire with this fireplace.
Top Fire Pit Features
Powder-coated antique bronze finish is resistant to rust

Included fire pit cover makes conversion to a flat surface easy

40,000 BTU rated stainless steel burner provides a beautiful full flame

Compatible with standard 20-pound liquid propane tanks

18lb bag of clear fire glass included.
---
2. Napoleon Hamptons Patioflame 42″ Square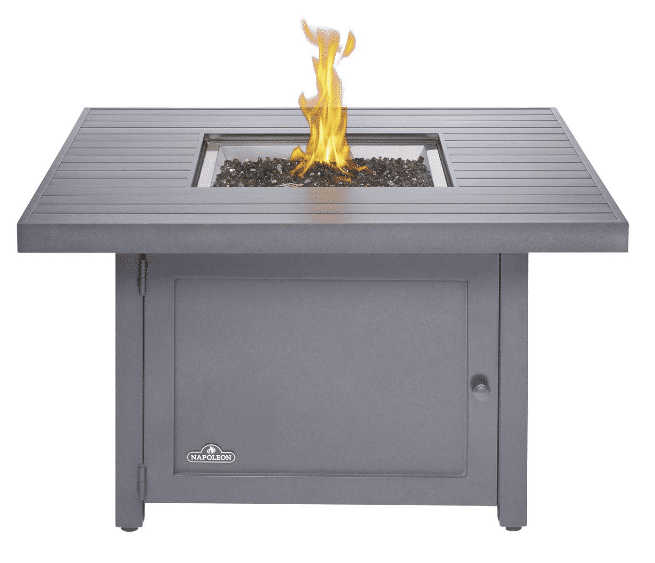 The Napoleon Hamptons patioflame is one of the nicest fire features under $1000 that I had the chance to test. The 40,000 BTU's provide ample heat and the burners stay lit even with a mild breeze. With this model you also receive 7 pounds of topaz glass which produces a beautiful reflective flame. Assembly is relatively easy and took about 30 minutes. The burner cover makes converting the pit into a nice bistro table super easy.
The built in thermocoupler valve is a great feature that a lot of low end portable propane fire pits don't have. If the wind blows the flame out or if the flame is disturbed, the gas supply will automatically be shut off to avoid propane waste.
At just over 90lbs, this table is easy enough to move around with an extra set of hands to help. The included gas conversion kit will allow you to hook into a natural gas line if you have one plumbed to your patio area.
Review Summary
I'm a big fan of the Napoleon brand of grills and barbecue's and this table is no exception. The fit & finish of this fire pit is excellent and it's very sturdy with top quality materials and construction. The grey color goes with just about any patio decor color. This is definitely a model to consider and the price isn't bad at under $1000
Top Features
Easy start ignition delivers instant heat and flames

Thermocouple valve turns off gas if the flame is disrupted preventing leaks and wastage

Neutral gray color matches any decor

Includes table, burner, burner cover, 7 1/2 lbs of topaz glass
Needs Improvement
---
3.
Outdoor GreatRoom Company Naples 48-Inch Propane Fire Pit Table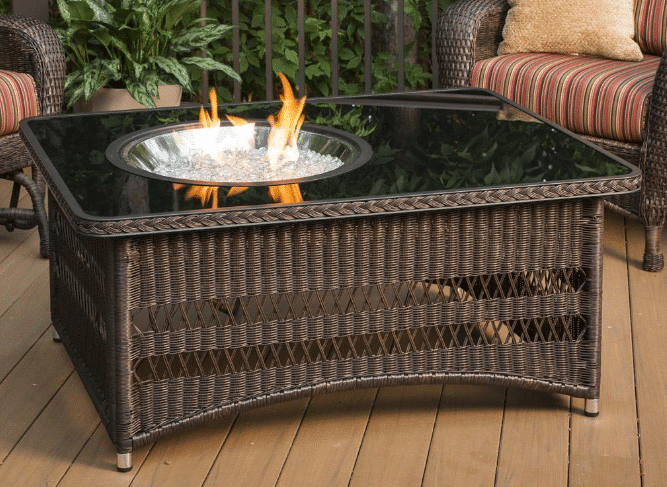 The Naples 48″ table is one of the pricier models that we tested, but with the higher price tag comes some amazing quality and features that are well worth the cost. The quality of the polyresin wicker is very nice and the solid surface tempered glass top has plenty of room for drinks and food With a low height of 21 inches, it converts to a nice sized patio seating table when the fire bowl insert is in place.
This unit comes with a stainless steel burner unit which will last for years and comes 10lbs of fire glass providing an amazing dancing flame. With a higher initial price, it's nice that it comes with these two high-quality items included.
It's compatible with standard 20lb barbecue propane tanks, and it features an impressive heat output of 55,000 BTUs. The gas is easier to light than many low-end fireplaces, with a simple manual button option.
With a listed burning time of nearly 11 hours, you won't have to worry about this fireplace running out of fuel quickly. While I haven't used it for quite that long, I can confirm that it lasts long enough to feed a large family's appetite for s'mores. We used it all night with no noticeable difference in heat.
Review Summary
Sturdy poly resin wicker combined with a tempered glass top and stainless steel burner makes this an all around quality fire display that will last for years to come. Easy to assemble and your propane tank is well concealed under the table. I like everything about this model from looks to construction.
Top Fire Pit Features
All-weather wicker outer material with powder coated aluminum frame

55,000 BTU rated Crystal Fire stainless steel burner provides a beautiful full flame

Battery powered spark ignition system offers simple control over the burner

Includes black glass burner cover and 10 lbs of diamond glass fire gems for a sparkling flame effect

Rectangular; 22 x 36 x 48 inches; 1 Year Warranty; UL Listed
Needs Improvement
---
4. Endless Summer GAD1401M Outdoor Propane Fire Pit

The Endless Summer propane fire pit is one of the most affordable yet high-quality outdoor gas fireplaces that I tested. Though it's low in price, it includes everything that you need to get started, including lava rocks to cover the burner and a protective weather-proof cover. Just buy a standard 5-gallon propane tank and light it up.
The unit feels sturdy and durable, but it's also lightweight enough that you can assemble it yourself without much trouble. It's compact and attractive. On the other hand, unlike some of my other top picks, it wouldn't work very well as a centerpiece for me. The surface area is too small to hold many drinks or plates, and there's no cover for the burner — just a fabric cover to protect the entire unit. It's better as a dedicated fireplace.
With a heat output of up to 30,000 BTUs, this fire pit doesn't get as hot as some others. This could be a pro or a con, depending on your needs. If you're looking for something to keep your patio warm during cold months, this probably isn't the outdoor gas fireplace for you. If you need something with minimal heat for warmer weather, this fireplace is ideal.
This fire pit can also be a bit difficult to use at times, because getting the flame to stay on requires some finagling. Those difficulties are the exception rather than the rule, though it would be nice to have a seamless experience every time. In general, it's pleasurable to use and well worth the money.
Review Summary
I wanted to include at least one propane fire pit that would work for just about anyone's budget. The Endless Summer GAD1401M is the perfect balance of quality and price. Sure it's not as fancy as a couple of the other fireplaces I tested, but it puts out a fair amount of heat, has some room for drinks and looks nice as well. You may have even seen this unit at Home Depot or Lowes as well. If you are looking for an affordable way to add a fire centerpiece to your backyard, you won't go wrong with the Endless Summer model.
Top Features
Made of weather-resistant steel

Lava rocks included

Comes with cover

Elegant look

Compatible with a standard propane tank
Needs Improvement
Tricky to get the flame to stay lit when breezy

Not as much heat as other tested fireplaces
---
5.
AZ Patio Heaters GS-F-PC Propane Fire Pit

My last pick for the top 5 propane fire pit is the AZ Patio Heater. It has a couple perks that make it a great choice. First, it's extremely affordable. At a fraction of the cost of some of the other top choices, it's a much more accessible gas fireplace.
Secondly, you can pay a bit extra to have it professionally installed. Though I didn't opt for that route, it's a very useful option for those who need to set it up alone or don't have tools. This fireplace is incredibly heavy, so it's nearly impossible to move it around without some help. With an extra hand or two, though, assembly was relatively easy.
This unit comes with glass beads, but they're not very attractive-looking. It also doesn't come with a cover of any kind. However, since the price is so low, you can splurge on some attractive glass or rocks and a nice sturdy cover.
The burner on this fireplace produces plenty of heat, and it's compatible with standard barbecue propane tanks. The flame is easily adjustable. The surface is somewhat larger and taller than I was expecting for an outdoor fireplace, but it can still be used as a table when it's not in use.
As a whole, this fireplace feels sturdy and durable. The paint, however, is another story. It looks rustic, but it's easily tarnished by water. This should be an easy thing to prevent with some simple wax protectant, and given the low cost, it seems a worthwhile trade-off.
Review Summary
What I really liked about the AZ Patio Heaters propane fire pit was the solid construction and nice metal finish. The top was prone to tarnishing, but that's not uncommon with many of the metal fire pits like this one. The glass beads aren't the most attractive of the bunch, but the price tag on the AZ is very affordable, so you can easily afford to upgrade to nicer fire glass. The flame adjusts easy and puts out plenty of heat. The table top also has a lot of room for drinks and other items.
Top Features
Affordable price

Classic, simple look

Produces 40,000 BTUs of heat

Glass beads included

Easy to assemble
Needs Improvement
Very heavy

Easily tarnished surface

Cover not included
---
High End Propane Fire Pits
Our top 5 list above includes some high quality, affordable propane fire pits, however if you're looking to make a real statement in your backyard and have a little more money to invest, check out these premium fire pits that will be the showcase of your patio area. All of the models we reviewed are made from the highest quality materials and the finishes are unmatched. They're not cheap mind you, but you definitely get what you pay for with these tables. They are guaranteed to be the talk of your entertaining space.
1. Real Flame Sedona 52-Inch Rectangle LP Fire Pit / Table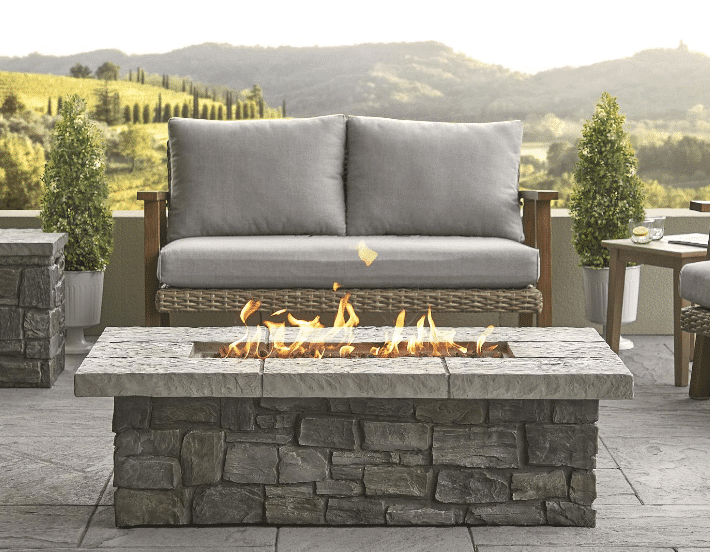 The Sedona 52-Inch Rectangular Gas fire table will create a spectacular centerpiece in your backyard and fun place to gather with friends and family. This fire pit is extremely durable, with a natural looking flagstone top and base made from stacked stone. Enjoy warmth and ambiance with a maximum of 65,000 BTUs of heat. You can hook up a normal 20 pound propane take or even convert it to gas with the included conversion kit. You may need professional installation for a natural gas hookup. Simple and easy startup with the push button ignition, leveling feet, lava rock filler & protective cover. This is a very nice option for any backyard space.
Review Summary
I really like the solid, durable construction of this unit combined with the amazing 65,000 btu output. The stone top and sides are very stylish and will work well with many patio decors.
Top Features
65,000 BTU burner quickly warms up the surrounding area

Burns for 7 hours on high or 20 hours on low to optimize fuel levels

CSA Certified ensures that it meets quality standards

Features a push button ignition for simple and fast startup

Compatible with a standard propane tank

Needs Improvement
No propane tank storage (but they have a cover option which doubles as a side table)

Fairly heavy at 131 lbs.
2.
Real Flame Baltic Gray Propane Fire Pit Table Rectangle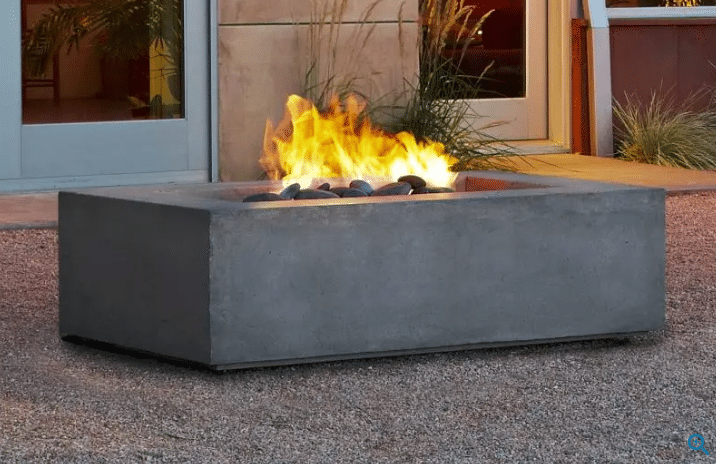 Transform your outdoor space for entertaining with the clean style of a Genuine Fire Baltic rectangular fire table. Cast from a high performance, lightweight fiber-concrete that is tinted to the surface color for raised outdoor resilience. This model comes full with lava rock filler and also a matching cover for when the burner is not being used. The Baltic Collection also includes an electronic ignition. Concrete product color will be exact however actual surface may be slightly different from the photos.
Top Features
Electronic fire pit ignition makes starting the fire easy

Fire pit concrete is tinted the color of the finish and not painted

CSA certified for safety

Small black lava rock, burner cover and 8 foot gas hose are included
3.
Napoleon Muskoka Patioflame 50-Inch Square Propane Fire Pit Table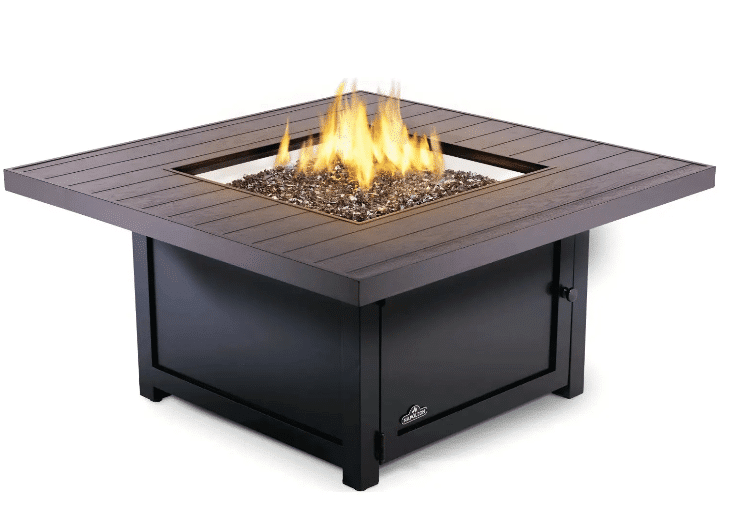 This beautiful table is the Napoleon Muskoka Square Patioflame Table. This 50-inch flame table is a perfect outdoor lighting option that produces 60,000 BTUs of heat in dancing flames. The handcrafted cast aluminum table frame is designed with durability in mind, and the Topaz Crystaline glass ember bed adds to the beauty of the fire.
The thermocouple valve prevents leaks and wastage by cutting off the gas when the flame is disrupted, and drainage holes in the stainless steel burner provides extra protection from rainwater in case you forget to use your cover. This flame table includes a burner, matching burner cover, 7 1/2 lbs of topaz glass, table with easy access doors to store propane tanks, and a propane to natural gas converter.
Top Features of this Propane Fire Table

Easy start ignition delivers instant heat and flames

Thermocouple valve turns off gas if the flame is disrupted preventing leaks and wastage

Stainless steel burner provides 60,000 BTUs of heat in dancing flames and ambient light

Includes table, burner, matching burner cover, 7 lbs of topaz glass, and propane to natural gas converter
4.
The Outdoor GreatRoom Company Uptown Black Fire Pit Table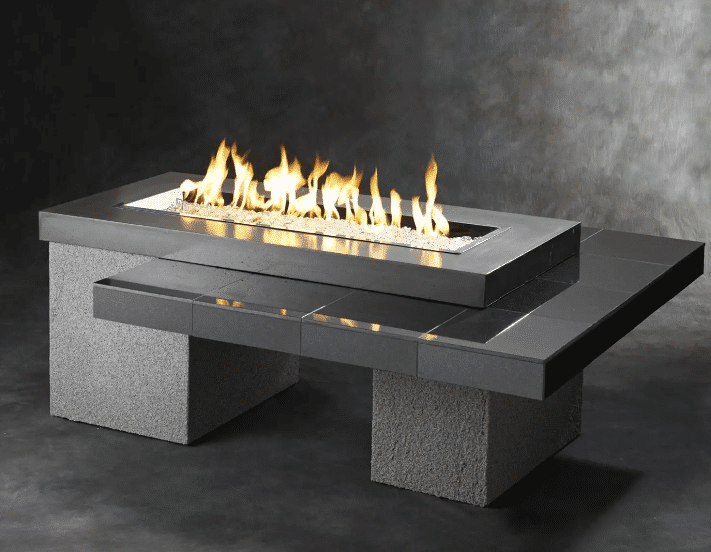 Include a modern-day style to your home with this elegant gas fire pit table from The Outdoor GreatRoom Company. The Uptown is made with clean, straightforward lines, as well as crafted to showcase a sensational radiant fire that is sure to warm up your outdoor area.
This fire pit table includes an one-of-a-kind tiered table design with a porcelain tiled lower tier, an exterior rated stucco top rate, as well as matching stucco base for a truly contemporary appearance. Resting in the top is a CF-1242 Crystal Fire heater with ruby tinted fire gems that is ranked for up to 100,000 BTUs to provide a trendy fire presence. Consisted of are a gray glass heater cover and also 15 pounds of diamond glass fire gems to create a gleaming fire result. Including electronic piezo controls, this fire pit lights with the push of a switch as well as lets you conveniently adjust the fire height.
This Crystal Fire heater is geared up with a key shutoff control panel, permitting you to limit control over the flame height. A gain access to door supplies very discreet storage space for a standard 20 pound gas storage tank. Gets here configured for propane however can be transformed to gas. Whether holding parties or just relaxing on the patio, the Uptown Fire Pit Table will give many cozy, beautiful fires for you to enjoy for years to find.
Top Fire Pit Features
100,000 BTUs rated Crystal Fire stainless steel burner provides a beautiful full flame

Includes grey glass burner cover and 15 lbs of diamond glass fire gems for a sparkling flame effect

Key valve control panel allows you to restrict control over the flame height

Compatible with standard 20-pound liquid propane tanks
5.
The Outdoor GreatRoom Company Vintage Wood Fire Pit Table Square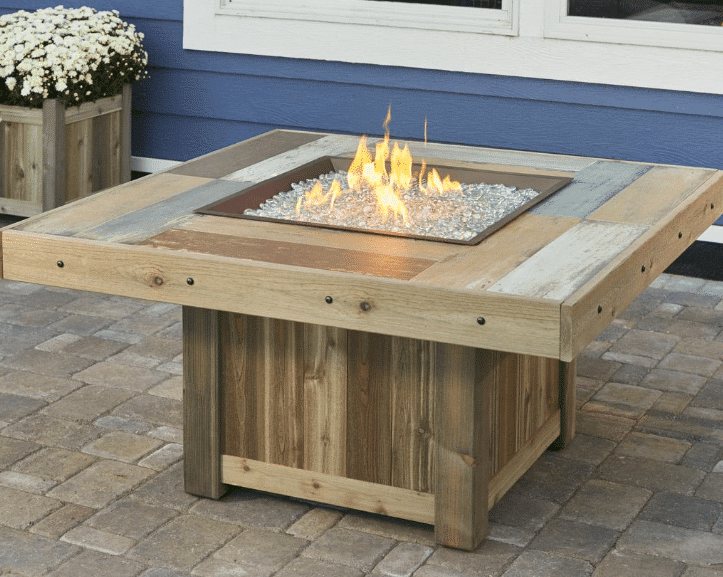 Include a rustic style to your home with this vintage fire pit table from The Outdoor GreatRoom Co.. The Classic functions a troubled cedar base that will certainly continue to age and also use as time goes on, and also a wood-look floor tile top engineered to display a stunning beautiful fire that makes certain to heat up your outdoor space. The included CF-2424 crystal fire heater is rated for as much as 105,000 BTUs and is finished in Honey Radiance Brown to enhance the all-natural feel and look of the table.
Included are a glass heater cover and 20 pounds of diamond glass fire gems to develop a sparkling fire impact. Including digital piezo controls, this gas fire pit lights with the push of a button and allows you easily change the flame elevation. An accessibility door supplies discreet storage space for a typical 20 extra pound gas container. Set up for lp yet can be converted to natural gas. To postpone base wood aging apply a sealant 1-2 years after purchase. Whether holding parties or simply unwinding on the patio, the Vintage Fire Pit Table will certainly supply many cozy, radiant fires for you to delight in for several years ahead.
Top Features of this fire table

105,000 BTUs rated Crystal Fire stainless steel burner provides a beautiful full flame

Includes grey glass burner cover and 20 lbs of diamond glass fire gems for a sparkling flame effect

Distressed wood base is unique to each fire pit. Wood, color, and grain pattern will vary.

Battery powered spark ignition system offers simple control over the burner
Propane Fire Pit Buyer's Guide
Fire pits make the perfect addendum to any yard's landscaping. From making s'mores to making an delightful and intimate space for out of doors entertaining, they are as functional as they are stunning. While earlier models needed home owners to keep wood unfilled, more modern gas powered options make lighting an odor free fire simple, as well as as long as more control over the height of the flame. For those that are interested in installing a fire pit in their grass, the following advice can help you select the right one.
Even though most of the gas fire pits on the market today have many of the same features, it's a good idea to educate yourself on a few of the details for what you should be looking at in a backyard fire table.  Take a second to read through this buyers guide and you'll have no problem picking the right fire feature for your yard.
Turn Up The Heat
Just like with gas barbecues, the number of BTU's (British Thermal Units) will decide how much heat your backyard fire pit can produce.  Most consumer grade fire pits will come in the 30K to 60K BTU range, which is completely ample for putting off a nice level of heat that anyone standing near the fire pit will feel and enjoy.
Fire Pit Style
The units I tested were all in the fire table style in varying shapes, but you can also choose a fire bowl or a mobile fire place that looks more like a traditional brick fire place.  There are many different materials to choose from as well, from aluminum to cast iron with or without decorative tiles etc.  The aesthetics of your lawn, and the amount of space unfilled to you, should be the first considerations in choosing a model that's most suited to your space.
Attractive metal or slate models are excellent selections for homes with a modern aesthetic. Their clean lines and muted colors allow them to fit completely with refined outside furniture and spare, concrete hardscaping features. Those who live in a rather more rustic area, or whose patio has a rather more natural feel, may need to deliberate fire pit frames that look as if they were made with uneven rocks or logs. This rustic look will give the feel of a cozy cabin right outside one's door. Choose the fire pit that fits your eye and will compliment your backyard space.
Fire Pit Fuel
The fire pits I tested all run on a portable propane tank, the same kind as many propane bbq's use.  However, you may choose to go with a wood burning fire pit, which can be more cost effective than having to refill propane tanks often.  Propane fire pits are clean and require little to no maintenance, while wood burning pits will require ash removal and take longer to get started/heat up.
Fire Stones, Rocks & Glass
This is part style and part function, but the type of stone or glass you use with your fire pit will affect how much heat is produced as well as the look of your fire place.  Glass fire beads come in many different colors and shapes and have a clean, modern look.  Lava rock or stone will look more natural and generally help the fire put produce more heat.  Both are available for most fire feature applications.
Other Considerations
If you plan on keeping your pit outside year round, definitely consider purchasing a high quality weather cover for your model.  It will keep it looking nice and performing it's best for many years.  For safety, never use your fire pit close to walls or patio covers.  Try to place your pit on a fireproof surface such as concrete, stone or tile.  Never sit too close to the fire feature as your shoes and clothes can get hot fast and potentially catch fire.  Because most fire pits/tables are relatively low to the ground always be mindful of children that may accidentally get too close to the fire.
Frequently Asked Questions About Propane Fire Pits & Tables
Do propane fire pits keep you warm?
Propane fire pits do produce a comfortable amount of heat, but the amount can be dependent on how many BTU's of output the fire table produces.  40,000 BTU's is enough to give off plenty of heat.  We don't suggest buying a propane pit with less than 40k BTU's.
Are propane fire pits safe?
Commercial fire pits pose little risk. They have been designed and built to keep the propane where it is intended, and the piping has generally been pressure tested to insure no leaks. DIY fire pits from a kit are almost as safe as commercially manufactured fire pits.
Commercially produced fire pits like the models I've featured in this review are extremely safe.  They've been thoroughly tested by the manufacturer, however it's important to keep small children and animals a safe distance from the table as the flames are still strong enough to cause burns.  We don't recommend building a DIY propane gas fire pit unless you have the proper tools and knowledge to do so.
How long does a 20 lb propane tank last in a fire pit?
This really depends on the BTU output of the individual fire pit, but most 20lb propane tanks will last for 4-5 hours at full flame.  If you run the pit at a lower setting you can probably get closer to 8 hours of run time on a single propane tank.
Is it safe to have a propane fire pit on a wood deck?
Table top fire pits are very safe to use on most surfaces including wood decks.  The heat is contained within the pit and since they don't produce any ash or embers, there's very little chance of any surrounding materials getting hot enough to catch fire. 
Can a gas fire pit be used under a covered patio?
Fire pits which run on propane gas fuel are safe to use under a covered patio providing you have enough air flow from the outside.  Be sure to confirm that the ceiling height, ventilation, location, and flooring of your outdoor space meet the manufacturer's requirements, prior to installation.
Can a gas fire pit get rained on?
Most fire pits & tables are made to withstand the elements including rain, however continued exposure to moisture can cause issues with the burner unit.  We recommend purchasing a quality cover that's designed to fit your model of fire table.
Are Sunnydaze Fire Pits Good
SunnyDaze has been making high quality fire pits for over 20 years.  They offer a variety of sizes and styles that will work with almost any space or decor.  You can read more about SunnyDaze fire pits here.