Amazon, Amazon Prime, the Amazon logo and Amazon Prime logo are trademarks of Amazon.com, Inc. or its affiliates. This website is a participant in the Amazon Services LLC Associates Program, an affiliate advertising program designed to provide a means for sites to earn advertising fees by advertising and linking to Amazon.com. We may earn a commission when you click on links and make purchases on Amazon.
Top 5 Natural Gas Grills
If you're going to get serious about having the ultimate entertaining backyard, one of the first items you should put on your "to buy" list is a high quality gas barbecue. Ok, before we get into a debate over charcoal vs. gas grilling, I'll be the first to say that grilling with the smoky goodness of a Weber charcoal grill is tough to beat, but if you plan on doing any real barbecuing this season, an outdoor gas grill is hands down the best way to go.
Just a few of the benefits of gas grills over charcoal grills include the ability to control cook temperatures when grilling delicate foods or multiple kinds of food.  Plus, you can get a lot more steaks on a full size gas bbq than on most traditional charcoal grills.  Gas grills heat up quicker and are generally easier to maintain.
With that said, I decided to put some of the most popular grills to the test and see which one's made the cut.  Below you'll find my top 5 picks for best freestanding gas grills that will transform you into a backyard barbecuing superstar.  I just want to add that I understand that many of the higher end grills can get quite expensive.  So I've tried to include bbq's that not only perform amazingly and are high quality, but also cover a few price points that any homeowner can afford.
Please note, these grills require natural gas be plumbed to your deck or patio area.  If you do not have access to natural gas, please check out some of the best propane grills here.
#1
Napoleon Prestige 500 Stainless Steel Grill
After testing nearly a dozen different stand alone gas grilles from several different manufacturers, the Napoleon 500 stainless steel grill takes the top spot as my #1 gas grill. Napoleon grills aren't exceptionally well know in the U.S., but if you want a quality barbecue that's made from the best materials and outperforms grills twice the price, I suggest you track down a Napoleon Prestige 500 and check it out personally.
This grill is built to last. All of the external components are stainless steel as well as the basin, sear plates, burners and cooking grids. Most stainless barbecues are only stainless on the outside and the internal components are the first to break down and wear out. But with all internal stainless guts, the Napoleon will resist corrosion and rust damage for years.
The capacity of this grill is just amazing. With 780 sq/inches of grill space, you can get 30 hamburgers over the main burner area and another 8 on the side burner. Speaking of the side burner, it will heat to 800°F in less than a minute so you have the perfect temperature for searing steaks & fish.
With this grill, you can easily prepare an entire meal . Prepare you steaks, chicken, roasts and meats on the main burners, while using the side burner for grilling veggies, heating sauces and other dishes. This baby cranks out 48,000 BTU's of pure heat and you can easily enjoy the flavors of charcoal grilling by using the Charcoal Smoker Tray. Fill this with your charcoal and the gas burners will quickly light it, so you can get all the smoky goodness of your old Weber bbq. This is one of the best 4 burner grills on the market today.
If you're slightly handy, there's no reason you can have this grill assembled and burning steaks in under 2 hours.
Top Features
Stainless steel external & internal components
780 sq/inch cooking area
Infrared side burner
48,000 BTU / hr
Stainless steel sear plates
Rotisserie kit included
Large, folding side shelves
Charcoal smoker tray
Lifetime warranty + 10 year warranty on burners
Needs Improvement
No smoker function
Slightly higher price point
---
#2
Weber Spirit S-315 Natural Gas Grill

There's no way I could not include a Weber bbq in my best gas grill list, because they have made some of the best quality charcoal grills for decades and their selection of gas and propane grills are equally as impressive.
The Weber Spirit S-315 was redesigned in 2013 and doesn't look as fancy as some of the other grills in it's class. However this "simple but stylish" unit really took me by surprise and turned out to be one of my favorite grills of the test. This is an entry level Weber to be sure, but the price tag definitely doesn't reflect this. Expect to pay around $500 for this particular model and don't expect to find it on sale any time soon.
The construction is high quality and this grill just feels sturdy and solid, as you would expect from a Weber product. You get over 500 sq/inches of grilling space on the main grill plus warming rack with 32,000 BTU/hour heat output. The max temp at full throttle is about 500 degrees F, so searing steaks isn't quite as good as the other grills that can achieve higher cooking temperatures.
One of the best features is the stainless steel burner tubes which resist burn through and rust that can be caused from the water found in natural gas & propane. The cooking grates come pre-seasoned are very easy to clean.
A pretty slick feature that you don't find on other grills is the Weber Flavorizer Bar system. The bars vaporize drippings from the food which adds smoke and flavor back into whatever you're grilling. Any drippings that don't get vaporized are channeled away from the burner to keep flare up's to a minimum.
Top Features
3 burners / 32,000 BTU
424 sq/in cooking space
Easy to clean porcelain cooking grates
Natural gas
124 lbs
Stainless steel burner tubes
Flavorizer bars
Stainless steel work surfaces
Needs Improvement
Side shelves don't fold
No side burner option
~ 500 °F max heat temp
---
#3

Weber Summit S-470 Stainless Gas Grill

Continuing on the Weber theme, my #3 pick is the Weber Summit S-470 stainless. This unit is a serious grilling machine.  Let me say that when you have this beast in your backyard, you've made the move from amateur barbecuist to full-on BBQ MASTER.
The Summit series by Weber is their fully loaded line of professional series grills that take your backyard cooking to a whole new level.  The S-470 has 4 burners at a whopping 48,800 BTU's, along with a side burner, sear station, smoker burner, plus the rear infrared rotisserie burner.
A massive 650 sq/inch combined cook space with the lower and upper racks means tons of space for burgers, steaks plus extras.   Porcelain-enameled cooking grates that get hot fast, retain heat extremely well and are super easy to clean up.
One of my favorite features is the side sear station that cranks out the heat for doing a quick sear on steaks before you put them on the main grill. This saves time and burner space for other items.
There's really nothing bad I can say about this bbq.  It's got all the features you could want, with heat for days and a ton of nice extras like tool hooks, heavy duty locking casters, stainless enclosure etc.  If I had criticize one thing it would be that this grill can actually get too hot.  It took me a couple meals to dial in the heat properly, but after I figured it out, it was amazing to use.
Top Features
Stainless steel external & internal components
780 sq/inch cooking area
Infrared side burner
48,000 BTU / hr
Stainless steel sear plates
Rotisserie kit included
Large, folding side shelves
Charcoal smoker tray
Lifetime warranty + 10 year warranty on burners
Needs Improvement
No folding side shelves
On the pricier side
Learning curve for heat control at first
---
#4

Dyna-Glo Black & Stainless 5 Burner Grill

Are you ready to take your grilling to the next degree of efficiency? This Dyna-Glo grill will equip your patio or deck with a durable, high-performance food preparation system that friends and family will gather around for many years to come. And also your envious neighbors. With a track record of long-lasting products that help you obtain perfectly prepared, flavorful food, it's not surprising that buyers continually rate our grills as 'a cut above' the others.
Kick your grilling game up a mark with Dyna-Glo's 5-burner natural gas grill. Its Dyna-Power cooking system comes with a steel, double-wall firebox that houses four stainless steel burners, delivering 48,000 total BTUs. Add the stainless steel, 12,000-BTU side burner, and you've got a full grilling/cooking technique that provides fast, high and uniform heat over 667 square inches of grilling space.
The sturdy lid construction is highlighted by a double-wall liner to keep heat and enhance the cooking effectiveness of the burners, along with heavy gauge, steel end caps for durability. Further lending to the grill's sleek style is a cabinet assembly that includes two stainless steel, double-wall doors and four multi-directional (two locking) wheels that allow you to easily move the grill. With the easy push of a button, the power of this gas grill takes charge, and you're only minutes away from savoring succulent burgers, tasty steaks, consistently cooked chicken and so much more. With such high-performance barbecuing only steps away, you'll want to raise the lid on your Dyna-Glo no matter what the weather is outside.
Top Features
Commercial grade stainless steel 5 burner
48,000 total BTU's for excellent heat output
Enameled cast iron cooking grates + warming rack
12,000 BTU side burner
Double wall lid
Solid base and surface construction
Needs Improvement
Thermometer is not that great
Knobs are cheap
Grill lower case is not double walled
---
#5

Broil King Monarch 390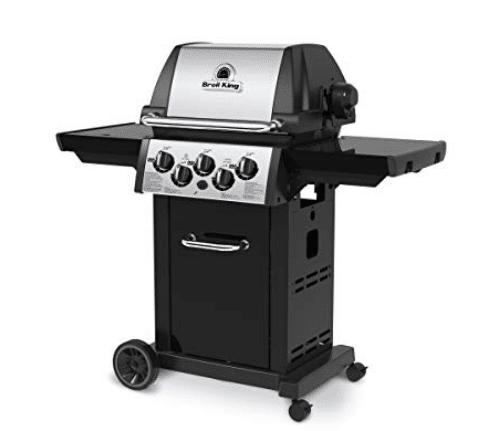 I must say I wasn't expecting to be this impressed with the Monarch 360.  It's the cheapest grill I tested and didn't think it would match up to the pricier Napoleon and Weber grills, but I was very wrong.  The Monarch 390 grill includes 3 burners with 30000 BTU as primary burner output. It has a 350 sq. In. Cooking area. It also includes sure lit electronic ignition system, two deluxe accu-temp thermostat, stainless steel Flav-R-Wave grilling and cooking system. It also include a stainless steel cook box with cast aluminum end caps & has a rust resistant zinc coated steel component.
Features: Flav-R-Wave grilling system the stainless steel Flav-R-Wave cooking system offers exceptional heat dispersal, safeguards the burner & vaporizes drippings for fantastic barbecue taste. Sure-lite electronic ignition system the sure-lite ignition system delivers you assurance knowing your barbecue grill will get going rapidly & conveniently. Deluxe accu-temp thermometer easy to read stainless steel thermometer has a probe that reaches deep into the oven, providing a more precise temperature level reading.
Therma-cast cook box produced from die-cast aluminum & covered by a limited lifetime warranty, these ovens supply great heat retention & long-term robustness. Stainless steel drop-down side shelves the durable, stainless steel side shelves are developed to instantly & easily fold down for practical storing in tight areas.
Linear-flow valves control knobs that provide you the unlimited heat management, making it possible for you to set your grill to the ideal temperature level for searing, roasting or slow grilling. Side burner high-powered side burner makes it possible for you to accomplish more. Create delicious side dishes, soups & sauces while you barbecue.
Rotisserie burner the direct flame stainless-steel rear rotisserie burner has Graduated ports along the complete length guaranteeing the flame level is consistent for much more constant roasting & first-class results.
Top Features
Powerful 30,000 BTU, 3 burner grill
10,000 BTU side burner / 12,000 BTU rear burner
Rotisserie kit included
Reversible cast iron cooking grates
Stainless drop-down side shelves
10 year warranty
Easy assembly
Stylish looks
Needs Improvement
Only 350 sq/in cooking surface
Not full stainless construction
---
As you're probably figured out after reading my best outdoor gas grill reviews, all grills are definitely not created equal. Yes, most share a lot of common features, but when you're getting ready to drop $500 to $2000 on a new barbecue, there are some things you'll want to look for and some things to avoid.  Here are a few of my personal grill buying tips to help you get the most grill for your buck.
Grill Construction
The best barbecues will almost always feature 100% stainless steel body and internal parts construction.  Basic steel parts will not hold up as long as stainless, so it's important to make sure you're getting a grill with stainless burner tubes and stainless grill body construction if possible  You will pay more for grills with these features, but it's worth the cost in the long run with years of problem free use.
Also, for freestanding grills, be sure the check the stability of the legs and casters.  You don't want a grill that isn't supported well and sways.  Not only can it be a safety issue, it's a recipe for a poorly constructed bbq that probably won't last very long.
If You Can't Stand The Heat….
The almighty BTU, British thermal unit.  This is the measurement of how much heat your new grill is going to crank out and generally the more cash spend, the more BTU's you're going to get.  This means higher available cooking temps, which give you more grilling flexibility.  You're going to find ranges from 15,000 to 80,000 BTU's.  It's not the only factor you should consider when buying a new grill, but a grill in the 30K BTU range will do a very nice job and won't blow your budget.
Also, more burners are a good thing.  With 4 burners you'll have individual controls for each, which means you can cook at different temperatures at the same time.  3-4 burners is the norm these days.  Some higher end models may have 5+ burners.
Natural Gas vs. Propane
The grills I reviewed in this article are all natural gas powered.  Meaning, you need to have a line run from your gas meter to the area you're going to be grilling, so you can hook directly into the natural gas line of your home.  I grilled on propane bbq's for years and I like propane.  Propane actually burns a bit hotter than natural gas, however I didn't enjoy running to fill tanks every few weeks or running out of propane mid cook.
Natural gas grills are much more convenient once you get the line run to your patio or deck area, but this is entirely up to personal preference.
Size Matters
If you only grill for your family on a regular basis, you probably won't need a grill with 700 sq/in of cooking real estate.  But if you like to party, and need to cook 30 hamburgers, hot dogs, corn on the cob and other veggies to serve large groups, you'll want to make sure you get a grill big enough for entertaining.  Most medium priced grills, in the $300-$450 range will have around 350-450 sq/ft of grill space.  More expensive models will upward of 700 sq/in.  Make sure to take this into consideration when choosing a new grill.
Portable Grills vs Built In Grills
Depending on your space and yard situation, you may choose to go with either a more portable gas grill or a permanent, built in gas grill solution.  There are advantages to both set ups, but more often than not you are going to find the higher end barbecues used in the built in applications.  Small gas grills that are mobile are great for people who have decks or limited out door space or for people who want an outdoor grill that can be used on the go, for tailgating or camping.
Gas Grill Benefits

With the numerous options of grills in the market, it can be easy to get confused about which type to purchase. It is important to understand the benefits and benefits of all prior to making a proper choice. Nevertheless, we shall only be discussing the benefits of using of a gas grill below given that statistically speaking 90 % of the worldwide distinguished steakhouses utilize natural gas grills.
Ease of Use
There are 2 extremely prominent words associated with natural gas grills; convenience and convenience. This is because your natural gas supply is primarily through the main line coming into your home which means you don't need to carry heavy propane and deal with constant refilling. Additionally, there is less risk using a natural gas connection versus a propane tank connection.
Expense of Grills
Another cost-effective factor associated with gas grills is that you can get a long-lasting and extremely good grill at a budget friendly price with all important functions which might otherwise be missing out on in a coal grill.
Eco-friendly
Since natural gas is an eco-friendly greenhouse gas,  it has been determined that gas grills produce 5.6 pounds of co2 where as propane grills produce 11 pounds thus negating the air pollution.
Easy Cleaning
Natural gas grills are very simple to clean in comparison to charcoal and electric grills. All you have to do is secure the gas inlet hoses and tubes with aluminum foil, disassemble all the parts and wash them with warm soapy water.
Cheaper Fuel
One of the significant advantages of having a natural gas grill is the expense  connected with fuel. It has been statistically shown that natural gas is 1/3 the cost of propane meanings that not only will you never ever run out of fuel during your barbeques, but you will also spend considerably less money using your natural gas grill than a propane grill.
Rotisserie Accessories
Most charcoal grills hardly ever have rotisserie kits nevertheless; this is not the case with gas grills since most come totally geared up with rotisserie kits which can evenly cook various types of meat and poultry.
Tools
Unlike charcoal gills, gas grills include a wider option of devices and tools such as side burners, lights, storage drawers and so on. These devices are extremely helpful and boost your cooking expertise and enjoyment.
Safety
When safety is concerned, natural gas might be categorized as unsafe and highly explosive if not managed properly. Nevertheless, it's still the most safe option in comparison to a charcoal grill given that you can quickly lower the flames by turning the knobs and there are no sparks or embers that escape the grill which could ignite a fire outside the grill.
Temperature Control
This may be the most vital aspect when it comes to barbecuing the most succulent dishes and probably the hardest to manage. Nevertheless, with gas grills, it is vital that you know your devices and understand the heat zones. When you master these both, your natural gas grill will help you grill the best meals in town given that it only takes 10 to 15 minutes to warm up and less time to cool off.
---
Other Grill Options To Consider
Best 2 Burner Gas Grills
Generally you're going to find gas grills with 2 burners in smaller grill options.  These are the types of grills that you would use for camping or even for apartment home applications when the user doesn't have a lot of space for a full size barbecue.  The pro's of of these bbq's is that they're generally the more affordable gas grills on the market.  You will usually find 2 burner grills to be the best grills under $200 and sometimes under $100 depending on the make and model and where you shop for them.  Home Depot & Lowe's are pretty good places to find sales on cheap gas grills.  You will find 2 burner grills in stainless steel and metal construction.  I generally advise to go with stainless steel if your budget allows, as they tend to last much longer than grills made from metal or even other ceramic/composite materials.
The downsides to 2 burner barbecues is that they don't have a lot of cooking space and the heat output is considerably lower than their 3 and 4 burner siblings. That doesn't mean you can't cook some great food on these smaller, portable grills.   Just make sure you do your homework and get one that has solid reviews online so you don't end up buying a piece of junk you'll have to replace next summer.
These are my picks for the best 2 burner propane gas grills that won't break the bank.
Best 3 Burner Gas Grills
Three burner grills are right in that sweet spot between the smaller, less powerful 2 burner models, and the big boy barbecues that feature 4, 5 and even 6 or more burners.  The average homeowner will do perfectly fine with a 3 burner grill.  They have great BTU output, so you can cook at higher temperatures when needed.  3 burner models will also have more features than 2 burners, including side burners, warming burners, infrared heating elements and more.
The 3 burner bbq's will not be as portable as their 2 burner siblings, but what you sacrifice in mobility you gain in more features and cooking power.  You can find nearly all 3 burner grill models in stainless steel (which I recommend) and metal/ceramic materials.
These are the best affordable 3 burner gas grills on the market.
Top 4 Burner Gas Grills
All five of the gas grills I reviewed in the first part of this article have at least 4 burners.  4 burner grills are the standard when it comes serious barbecuing and you'll find some deluxe models with 5 and 6 burners, plus side burners and warming racks & plates.  You can easily spend upwards of $2000 for a top of the line, stainless steel 5 burner grill, but you can also get some really nice models in the $400-$800 range as well.  I'm partial to the Napoleon & Weber brands, but you some of the best grill brands include Char Broil, Dyna-Glo and Master Cook.  Check out my picks below for the best 4 burner gas grills.
Best Affordable Portable Gas Grills
When you're looking for a quality portable gas grill you'll want to consider a couple of factors including how much food do you need to cook at any given time vs. how much space do you have for your grill setup.  Smaller, mobile grills are generally going to feature less burners, which equates to less BTU's and cooking power. But that doesn't mean you can't find a good grill for the value that will also perform nicely.
If you're in need of a grill for camping or tailgating, you are most likely going to want a model that you can easily fit in the back of your car or truck.  You will probably want to go with a grill that sits directly on the ground, table or tailgate.  Portable grills with wheels and stands will be too big for these types of applications.
If you just want a portable grill for your backyard, you have a lot more options.  Nearly all sizes and grill models come with mobile bases and casters.  This allows you to roll the grill around your yard or patio as needed.  This doesn't mean they will be a lightweight grill, but if rolling mobility is all you need, then you open yourself up to grills with more burners and features.  Here are my favorite portable propane grills that are lightweight, versatile and perform close to much larger, freestanding grills.