Toro 51619 Ultra Blower Review
For those who want a corded leaf blower, the Toro Ultra Blower Vac is a standout model. Owners and experts say it has a lot of power. It's also effective at sweeping up wet and dry leaves, clippings and other debris. The metal impeller is larger than in the past and is considered effective at shredding. Though most say it's easy to handle, the few negative user reviews we spotted include complaints that the Toro is heavy. Some say the leaf bag can be awkward to handle, and a few say that it doesn't hold up as well as the rest of the machine.

Specs:
Type: Electric leaf blower
Power: Corded, 120 volts
Airflow: Speed: 250 mph; volume 410 cfm
Weight (pounds): 8.5
Noise level (decibels): 68
Warranty: 2 years
Durability
Solid internal components. To finely mulch leaves and twigs, the Toro Ultra Blower Vac uses a metal impeller with serrated shredding blades, a durable design that's preferred by experts. The mulch bag and zipper aren't as long lasting, according to user reviews. This is a new model so long-term durability is yet to be established, but the previous version had a good track record, with users saying it was still going strong after several seasons of use. The warranty is for two years.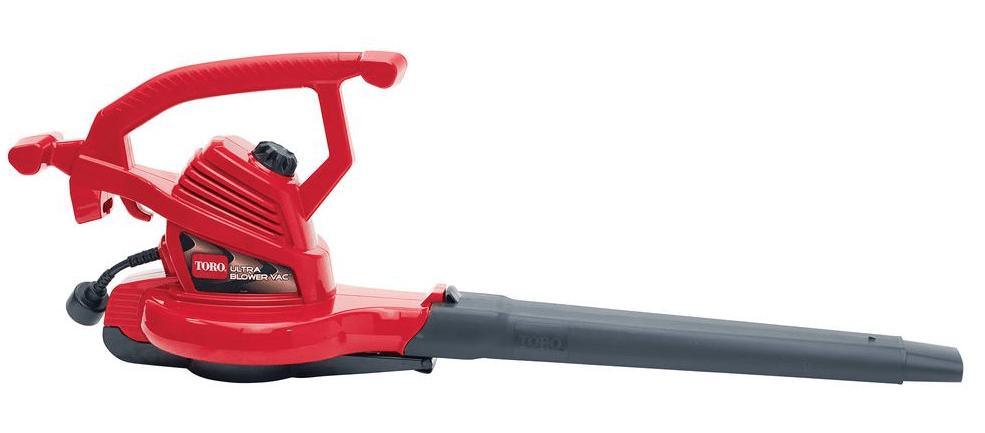 Performance
Powerful corded blower converts to a vacuum. The Toro 51619 Ultra Blower Vac is an update of a well-reviewed and well liked leaf blower, the Toro 51609 Ultra Blower Vac (Est. $85) [B007POATV4], which has been discontinued by Toro but is still widely available at retail sites. TheSweetHome.com says that the changes in this upgrade appear to be minor (pending its own testing) so performance should be similar. The specs show that it features a slightly more powerful motor, capable of moving up to 410 cfm of air at speeds of up to 250 mph. User reviews are starting to come in, and so far it's mostly aces, with terrific performance largely reported both when blowing leaves and sucking them up and mulching them. With a new, larger impeller, mulching leaves and other debris cuts down their volume by about 88 percent. A variable-speed trigger allows users to select the right power level for each job.
Ease of use
Good handling with a few caveats. The Toro Ultra Blower Vac is designed to make changing from blowing to vacuuming mode a breeze. The new model's more powerful performance also brings with it a one pound increase in weight, to 8.5 pounds. While we can't be sure that's why, we did see several user complaints saying that the new Toro is heavy. A nice touch is that when the blowing and vacuuming are done, everything can be stowed inside the vacuum bag, which can then be hung on a wall. At a noise rating of 68 dB, the Toro is relatively quiet, especially compared to a gas model, but still loud enough that wearing hearing protection while using it is a good idea.

Become a yard master!    Get tips and ideas for creating a beautiful backyard