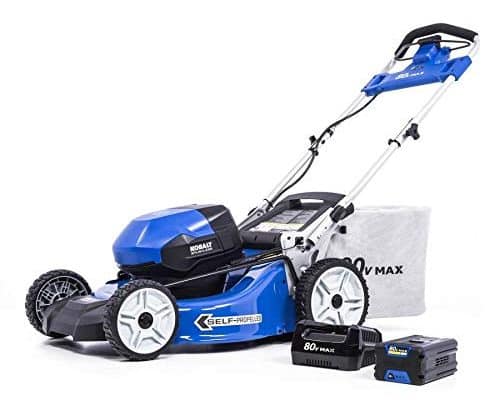 Review of the Kobalt 80V Self-Propelled Mower: Unleashing the Power of Effortless Lawn Care
The Kobalt 80V Self-Propelled Mower is a game-changer in the realm of lawn care equipment. As a proud owner and avid user of this innovative mower, I am thrilled to share my firsthand experience and provide a comprehensive review. With its powerful performance, user-friendly features, and exceptional build quality, the Kobalt 80V Self-Propelled Mower has transformed my lawn maintenance routine.
Design and Build Quality:
The Kobalt 80V Self-Propelled Mower showcases a sleek and modern design that immediately caught my eye. The sturdy build and high-quality materials used in its construction instilled confidence in its durability. The reinforced steel deck ensures longevity, while the ergonomic handle design provides a comfortable grip for extended use. The mower's overall construction is robust and built to withstand rigorous mowing sessions.
Performance and Cutting Capability:
When it comes to performance, the Kobalt 80V Self-Propelled Mower truly shines. Equipped with an 80V lithium-ion battery, it delivers consistent and reliable power throughout the entire cutting session. Whether faced with tall grass, dense patches, or uneven terrain, this mower effortlessly tackles the task. The self-propelled feature enhances efficiency, allowing me to effortlessly maneuver through my yard while customizing the speed to match the terrain.
Ease of Use and Maneuverability:
Setting up the Kobalt 80V Self-Propelled Mower was a breeze. The assembly process was straightforward, and the clear instructions provided ensured a hassle-free setup. The intuitive controls and user-friendly interface make operating the mower a seamless experience. I particularly appreciate the adjustable cutting height feature, which allows me to easily adapt to different grass lengths and achieve my desired lawn aesthetic. Maneuvering the mower is a breeze, thanks to its smooth handling and responsive steering.
Maintenance and Storage:
Maintaining the Kobalt 80V Self-Propelled Mower is remarkably hassle-free. The durable materials used in its construction make cleaning a breeze, as a quick hose down is sufficient to remove any grass clippings or debris. The convenient foldable design enables compact storage, making it easy to tuck the mower away in my garage or shed when not in use. Additionally, the efficient battery life and quick charging time ensure minimal downtime between mowing sessions.
Pros and Cons:
The Kobalt 80V Self-Propelled Mower offers a multitude of advantages. Its powerful performance guarantees a clean and precise cut, even in challenging conditions. The self-propelled feature makes mowing effortless, reducing fatigue and saving valuable time. The ergonomic design and adjustable cutting height contribute to a comfortable and customizable mowing experience. However, one minor drawback I noticed is the mower's weight, which might be slightly heavier compared to some other models on the market. Nonetheless, the self-propelled feature compensates for this, making it manageable during operation.
Personal Experience and Conclusion:
Having owned and extensively tested the Kobalt 80V Self-Propelled Mower, I can confidently say that it has exceeded my expectations. Its powerful performance, ease of use, and exceptional build quality make it a standout choice for homeowners seeking a reliable and efficient lawn care companion. Whether you have a small or large yard, this mower delivers outstanding results while ensuring a pleasant mowing experience. If you're in search of a high-performance self-propelled mower that combines power, durability, and user-friendliness, the Kobalt 80V Self-Propelled Mower comes highly recommended.
In conclusion, the Kobalt 80V Self-Propelled Mower has revolutionized my lawn care routine, providing unparalleled performance, convenience