Swimming Pool Landscaping Tips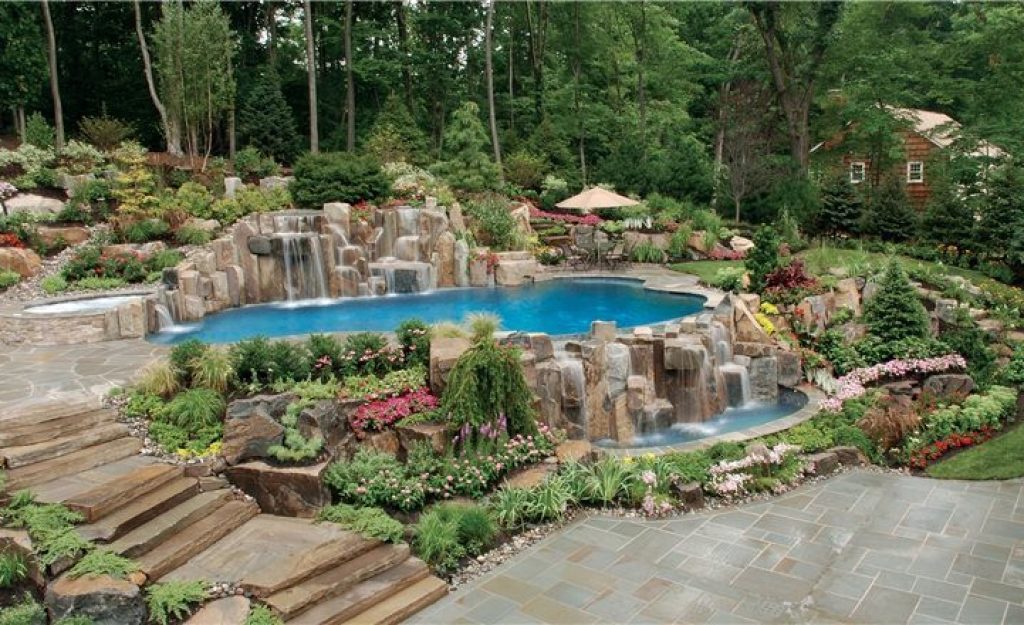 Having a swimming pool in your landscape can make it look more scenic and increase its aesthetic value. This article discusses in detail the types of pools available to a landscaper and the ones that are really of value in pool landscaping.
Types of Pools
Basically there are two types of pools that a landscaper can go for – Above ground pools and In-ground pools.
Above-Ground Pools
Above the ground pools are movable pools that can be installed and removed when required. They are the least expensive of readymade pools and come in a variety of sizes and shapes.
Above ground pools are easy to set up and can be brought at very affordable rates, but when it comes to adding to the beauty of a landscape, they simply fail the job. As a landscaper you can go for this type of a pool in-case you are not ready for a permanent structure in your backyard.
In-Ground Pools
In-ground pools are the real type of pools that fit into your landscape permanently. Basically in-ground pools are available in three different varieties – Concrete Pools, Vinyl-liner in-ground pools and Fiberglass pools.
Concrete Pools: Concrete pools are the ones that are custom built by the landscaping service provider or pool builder you choose. Concrete pools are quite popular when it comes to professional landscaping as they can be custom designed to suite the specific requirements of the landscape. In addition they are cheaper in comparison to other kinds of readymade in-ground pools. The only drawback that concrete type pools have in relation to other types is the fact that they can take a longer time to manufacture.
Fiberglass Pools: Fiberglass pools are readymade factory manufactured pools that resemble the shape of an oversized bathtub. These types of pools can be installed in one piece in landscapes after the excavation is completed. The major advantage that fiberglass pools have over others is the relatively lower time in which they can be installed. The drawback of-course is the added cost and lack of variety to choose from. But for landscapers looking for an immediate pool solution without much fuss, this is the way to go.
Vinyl Liner Pool: Vinyl liner pools make use of vinyl lining that covers the excavated area of the pool along with paneled walls. The liner is held in place using vinyl ribs using which it is connected to the top of panel walls. Installation can be done within one to three weeks. If you are looking for a cheaper option for your landscape then vinyl liner pool would be your best bet.
Fencing your pool
Pools are meant to be secure and fencing around it helps you do just that. Fencing your pools will also help you keep children, pets and other non-swimmers away from the pool. In turn many communities might have rules to have fences around the pools.
You can build a fence on your own with the use of pressure treated wood material or anti-corrosive metals. In addition you can also go for prefabricated fencing kits that are easily available. Fences can be made five to six feet high with spacing of 3 – 4 inches.
Planting Around the Pool
Planting around your landscape pool is a great idea as it not only improves the overall beauty; it also protects you from unwanted views providing much needed privacy. In addition plants will serve as insulating area around the pool and can be used to hide pipes and other pool equipment.
It is important that plants near the pool do not shed a lot of debris and are easy to maintain. This is because cleaning the pool of plant wastes again and again can be a real pain. In addition make sure not to use plants with thorny edges around the pool.
Lighting around the Pool
Imagine partying around your pool; do you see that exotic illumination coming from somewhere making your pool look all the more wonderful. You can achieve this in reality by making use of proper exterior as well as underwater lighting. Underwater lighting is also important to increase the safety and can prove useful for people with poor vision and those under the effect of alcohol. In addition to the safety aspect, proper lighting around your pool can add to its beauty hugely creating an inviting environment during night hours. So make sure you go for proper lighting for your pool.

Become a yard master!    Get tips and ideas for creating a beautiful backyard